Do you want more clients, revenue and referrals for your Photography Business? Looking for custom Photographer Business Cards?
You are in the right place! Below, we have listed some of our favorite creative photographer business cards that are guaranteed to impress!
Metal Photographer Business Cards are the perfect tool to grow your business:
1. STAND OUT in extremely competitive markets with immediate legitimacy
2. Make a lasting impression on potential clients
3. Get more referrals by showcasing your expertise, creative talent and professionalism
Our team at My Metal Business Card are the experts at designing and creating custom Metal Business Cards for freelancer photographers and photography businesses – we have worked with photographers across the country as well as internationally.
If you're a photographer who's looking to STAND OUT and improve your business, our custom Metal Photographer Business Cards are a great way to confidently and successfully market yourself.
---
Check out what others have said about their metal cards:
Impressive!
⭐⭐⭐⭐⭐
"The card is very impressive and does exactly what I wanted it to do for my clients… Impress. Hand them a metal card…it gives you immediate legitimacy which is good in my profession because I'm competing with a host of other vendors who offer my same service, but mymetalbusinesscard brings me to the top of the list. Thank you!"

– Simon Will E
---
Metal card is a statement
⭐⭐⭐⭐⭐
"My business is completely referral. I've never had a customer that wasn't completely surprised at the outcome. My business cards have to reflect the same. A top quality metal card is a statement. It's a card they won't trash. I always provide extras so they can pass them on to their friends and associates. It's completely marketing and it works."
– Shane L.
---
These cards give me immediate legitimacy!
⭐⭐⭐⭐⭐
"My card turned out amazing. Everyone I show is impressed by them and would never guess that I am new to the business!"
–Sara Gorman
---
Awesome Cards!
⭐⭐⭐⭐⭐
"The cards are awesome. Everyone I hand them out to just loves them. I have already recommended your company several times. The cards are perfect. They worked with me on the design until it was exactly what I wanted. I am extremely happy with the cards and the customer service. 5 stars all the way. "
– Johnny M.
---
Keep scrolling to see creative Photographer Business Cards that win clients!
12. Picture This! – Custom Photographer Business Cards
There's no question Ben is a photographer with this custom-shaped camera Metal Business Card! Ben chose Black Metal cards, with silver laser etching and red and white spot colors. This card is one of our favorites because of its unique shape and design. Custom shapes are included in our pricing as long as they fall within normal product dimensions!
11. Soar Above the Competition – Custom Photographer Business Cards
Eagle Photography went with a Copper Finish card to channel the rustic, earthy-side of their brand. The Eagle in their logo was CUT THROUGH the card as well as the holes on the top and bottom borders. For the content, they opted for surface etching only which accentuates the natural look of the Copper Finish Card –both distinctive and eye catching!
10. Focus Here – Custom Photographer Business Cards
We love Ryan Gonzalez's card for several reasons. This is a brushed, Stainless Steel Card with custom cut outs and black spot color. Ryan's Metal Business Card has a solid, balanced design with the shutter cut through the middle and his signature logo across the front of the card. His contact information can be found on the back on the card, which allows for his logo on the front to really STAND OUT.
9. Modern Card for a Modern Photographer – Custom Photographer Business Cards
J Alley Studios wanted a sleek, modern design for their Black Metal Business Cards. For the top, bottom, side borders and center logo, we laser etched off the Black Metal coating to expose the stainless steel underneath. The Black Metal Card surface is matte black, which looks very classy and sophisticated.
8. Shutter Out the Competition – Custom Photographer Business Cards
This Black Metal Card for Eduardo Hernandez is another favorite! Eduardo utilized silver laser etching for the card content and custom cut outs for the shutter/hole design. As a Photographer and Image Strategist, it was important for Eduardo to have a Metal Business Card that looked professional and set him apart from the competition. With his name prominently etched on the top, Eduardo's cards are sure to do just that!
7. The Gold Standard of Photography – Custom Photographer Business Cards
We recently produced these brushed, Brass Finish Cards for Alex Bays Photography. Brushed Finish adds a horizontal grain to the surface of the card giving it more character. These Brass Finish Cards remind us of GOLD, which makes them instantly stand out. Alex opted to have his name cut through – this added NO cost as custom cutouts are FREE!
6. Capturing All the Shots – Custom Photographer Business Cards
Kitwood Photography purchased Copper Finish Cards with two colors to keep with their current branding. They utilized custom cutouts, spot colors, and surface etching for the contact information. Etching without color yields a subtler look that many clients prefer. This Copper Finish Metal Business Card is STUNNING in hand! The cutouts combined with their colorful logo on the Copper Card tie the entire design together.
5. A Card With Your Signature Look – Custom Photographer Business Cards
This Copper Finish Metal Business Card was custom made for Lexi Perry. We love the way the white spot color highlights Lexi's beautiful and unique calligraphy-inspired logo. We added white spot color to make her name look artistically painted on the card. Custom circular cut outs align the right and left side, which draw the eyes inward to her logo. This is a custom Metal Business Card that shows attention to detail – just like Lexi's Photography business!
4. A Shot Worth Taking – Custom Photographer Business Cards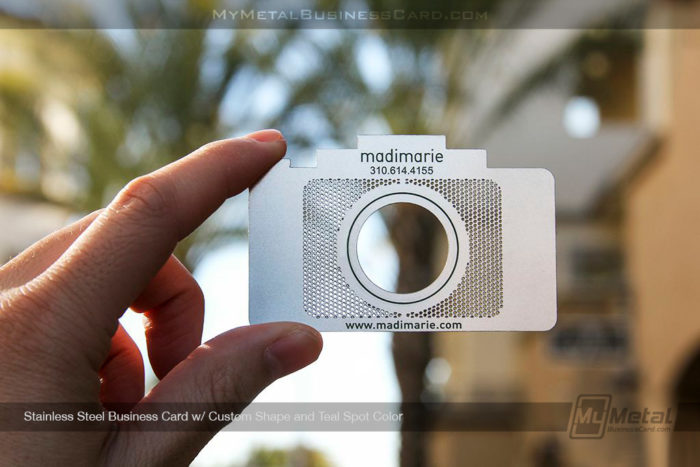 MadiMarie opted for a Stainless Steel Card with a custom shape and cut outs. Like Ben Harper, Madi chose a camera-shaped Metal Business Card to immediately distinguish herself. She kept it simple with just the essentials: her name, phone number and website. We like this card because it's unique and memorable!
3. Prestigious Metal Business Cards – Custom Photographer Business Cards
Arthur Poole, CEO of Prestige Worldwide Photography, also chose Stainless Steel for his Metal Business Cards. We added a hole cut out pattern around his logo and cut through elements of the logo as well. We used black spot color for the content, which is a recommended option if you're looking to have your information contrasted and easily legible on the Stainless Steel surface. Arthur's photography business cards are eye-catching and look nicely balanced – another solid execution by our in-house graphic design team!
2. Hit Them With Your Best Shot – Custom Photographer Business Cards
Kailey Schwerman utilized Stainless Steel with custom hole cutouts and surface etching for her Metal Business Cards. Surface etching on a Stainless Steel card appears light silver. Kailey had the word 'Photo' cut through the card as an added element to make her logo POP. All design features of this card are included in our standard pricing!
1. A Classy Finish – Custom Photographer Business Cards
This Metal Business Card for Gonzales Photography is a popular request among our photographer clients! The card is brushed, Stainless Steel with black spot color and custom cutouts. The Gonzales Photography logo is actually the Stainless Steel card surface – we screen printed the black spot color around it so the card surface shows through! The 'G' cut out solidifies the design and makes the card look classy, professional and established.
---
WANT TO FIND THE RIGHT METAL BUSINESS CARDS FOR YOU?
>> Take our metal business cards for photographers Quiz!
QUIZ: CHOOSE THE BEST METAL CARDS FOR YOUR BUSINESS
---
READY TO ORDER YOUR CARDS?
At My Metal Business Card, we are constantly researching the marketing industry's most popular and effective products for our clients. Unlike other companies, we stand by the quality of our products down to the smallest details.
Order your custom Metal Business Cards and experience the difference.
We are the world leader in Metal Business Card Industry because of our service, price, speed and 100% satisfaction guarantee.
Our expert team can help design outstanding cards to match your brand – and we promise your cards will not go to production until you are happy with the design!
---
CAN WE SEND YOU SAMPLES?
We know seeing is believing which is why we offer free generic samples to our clients. This way, you can get a better idea of what our Metal Cards look like in physical form – you'll see the quality speaks for itself!
Visit https://mymetalbusinesscard.com/request-free-samples/ and complete the short Sample Request form. We'll process and ship your samples via USPS Mail within 24 hours!
---
Our #1 goal is to make you instantly stand out and leave a memorable impression.
To place an order or if you have any questions, contact us at 714.213.8155 or email Sales@mymetalbusinesscard.com.
We look forward to hearing from you!
Want to find the right metal business cards for you?
>> Take our metal business cards for photographers Quiz!