Step into a world where craftsmanship meets artistry, and metal cards capture the essence of visual storytelling. Welcome to our selection of metal business card designs tailor-made for photographers.
Just as every click of the shutter freezes a fleeting moment in time, your cards will mark each meeting by leaving an unforgettable impression. Imagine holding a metallic masterpiece that mirrors the skill and finesse of your photography, which piques curiosity and sparks conversations with its one-of-a-kind charm.
Join us on this photographic journey, where the remarkable fusion of style and practicality take shape in the form of a metal business card:
25. Well-Traveled – Square Metal Business Card for Photographers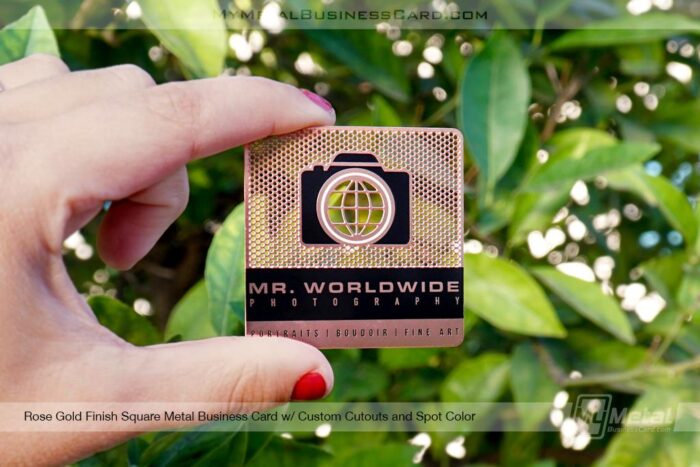 Are you looking for business cards that are out of this world? Mr. Worldwide Photography was which is why we set them up with a custom set of unique Square Metal Business Cards!
Anodized in a stylish rose gold finish, these cards are on trend on trend with both their coloring and shape. A bold black spot color surrounding the business name makes it pop in the rose gold, while drawing the eye towards the camera logo.
We etched a small mesh pattern through the top portion of the card for an almost optical illusion in the light, while enlarging the cutout areas in the center of the camera to create a globe-like image.
With cards this impressive, you'll be known worldwide!
24. Among the Stars – Custom Shape Black Metal Business Card for Photographers
Jenny Parkinson of Jenny Lyn Photography needed a standout card that towed the perfect line between creative and professional! Sophisticated and slightly mysterious, our Black Metal Business Cards fit the bill.
Included with our standard pricing, we created a custom shape round business card inspired by her crescent moon logo! This unique shape creates a completely different in-hands feel and ensures these cards will stand out in a stack of common rectangular cards.
Opting for silver laser etching only, the raw stainless steel shines through for a mystical appearance. Silver laser etching also provides the perfect amount of contrast for a QR code on the black metal finish!
With cards this impressive, Jenny can shoot for the moon!
23. Whale Done! – Stainless Steel Metal Business Card for Photographers
George Garcia of Garsha18, an expert in fine art photography, sought a business card that would be a worthy match for the excellence embodied in his craft. Skilled in our own craft of creating custom metal business cards, we knew we were whale equipped for the challenge.
A Stainless Steel Metal Business Card was used as the base, displaying the beauty of the raw metal. A classic choice, the metal provides a natural and technical feel perfectly marrying the elements of nature photography.
Using custom cut through areas we added an aperture design framing their round logo in a black spot color to fit the theme of the business. Additional cutout patterns were added to enhance the impact of the design.
These cards are so epic customers will tell stories for years to come!
22. The Perfect Vew – Gunmetal Business Card for Photographers
Wanting to bring the perfect vision to life for VEWFINDER Founder Mohammed Al Ahmadi, a Gunmetal Business Card serves up the right amount of flair.
Dark like our black metal but with an unexpected edge, the gunmetal finish takes your cards in an exciting new direction. The brushed lines add an extra element of style while also helping to deter the appearance of fingerprints.
Our cards come standard with one spot color included but upgrading to single side Full Color Printing allowed us to capture the full rainbow color spectrum of their logo.
To enhance the photography style imagery, we cut through corner marks to match the view finder focusing screen of an actual camera.
Help us capture your vision and get started with a custom metal business card today!
21. It's Flow Time! – Stainless Steel Business Card for Photographers
Flow Photos mission is to help their clients pursue their real estate dreams, so it was only fair that we helped them achieve their dreams of the perfect Stainless Steel Business Card!
Making sure to keep ample space on the back of the card for important business information, we etched and filled the camera aperture on the front side of the card with a black spot color.
Using chemical etching we cut the card into a custom camera shape! We also cut the view finder and flash right through the cards, along with a side mesh panel for a fun see through effect.
With cards this special the sales are sure to flow!
20. Maui WOW-i! – Black Metal Business Cards for Photographers
WeR3DMaui needed a custom set of Black Metal Business Cards that make them the only option on the island!
A picture-perfect design, we cut an aperture design through the center and circular mesh across the entire top and bottom of the card for an almost entirely see through card.
Using a vibrant red as their spot color creates the perfect focal point in the center of the cards. The silver laser etching used for the business name and circle border complements both the red spot color and black metal finish.
Create a business card worth a thousand words with your own Black Metal Business Card!
19. A League of Your Drone – Brass Finish Metal Business Card for Photographers
TCulley Drone Services were looking for a way to soar above the competition and make their business "take flight!" Enter the drone-tastic Brass Metal Business Card – a true "maverick" in the world of networking!
The Brass Finish Metal Business Card is no ordinary flyer. With its meticulous mesh cut-out patterns and drone propeller circles, it's sure to make heads spin.
We've etched and filled the content at 10% depth, giving it a touch of elegance while keeping it "grounded" enough to handle any meeting.
Don't get stuck in the past with paper cards. Get ready to soar above the rest with a custom metal business card!
18. Feeling Foxy – Square Metal Business Card for Photographers
For Adam Grimm of Transmedia Fox, the nature of the business demanded a bespoke Square Metal Business Card that's as sly as a fox and as sharp as a photographer's lens. Our incredibly popular Black Metal finish provides the perfect canvas for those who want to capture attention with a message that's picture-perfect.
Keeping the focus on the fox logo/branding, we delicately cut their fox logo right through the center of the card. With chemical etching, we can cut the subtle details through the metal.
Adding an extra spot color, they chose orange and grey to keep the branding on point. Light and vibrant spot color work best on the black background, creating contrast and visual interest.
Although the Square Metal Business Cards are smaller, they'll make jaws drop twice as hard.
17. Show 'Em the Real Vue – Black Metal Business Card for Photographers
VUE wanted an innovative twist for their real estate photography business cards – the Black Metal Business Cards! These cards are designed to add a touch of sophistication and uniqueness to your professional image.
The custom shape lets us pull the circular logo off the edge of the card for a unique silhouette. Using the same chemical etching process, we surfaced etched a wave pattern into the cards for textural effect.
Although several spot colors were used, they also upgraded to a single side of Full Color Printing to fully capture their color wheel/eye logo! We encourage the mix and match of production processes to create your ideal card design.
Show clients exactly who you are with a custom created Black Metal Business Card!
16. Wish You Wood – Stainless Steel Business Cards for Photographers
Loyal client since 2016, Ron Wood never fails to impress with his custom Stainless Steel Metal Business Cards!
Keeping the simplistic beauty of the raw metal but with a unique edge (literally), we cut a slight angle off the bottom of the cards giving it a modern flair. A black spot color was also used sparingly for small areas of text, keeping the design clean and direct.
With precise chemical etching we were able to cut the R and W of his signature through the cards, keep all the nuance and flourishes of his actual handwriting. We also cut out the website in a stencil like fashion.
Come to your meetings from a different angle by handing out your own Stainless Steel Metal Business Cards!
15. Be Still My Heart! – Black Metal Business Card for Photographers
Our lens-loving guru, Audrey Jeane brings a fresh perspective to the world of photography and so we needed to deliver a fresh take on traditional business cards. Enter the custom Black Metal Business Card!
Chemical etching cuts through the conventional boundaries of the business card design and allows us to add amazing patterns such as this one inspired by the intricate camera apertures.
Ultra precise silver laser etching is used for the logo and name, letting the stainless-steel shine through for a bright and crisp look.
Get ready to make a statement and forge connections that will truly develop into picture-perfect moments!
14. HexaGONE WILD! – Custom Shape Metal Business Card for Photographers
Curious about the QR code frenzy? With a custom shaped Stainless Steel Business Card for Abastida Film & Photo Co. you can unlock the secret with a simple scan!
With a meticulously applied QR code, smartphone users are seamlessly transported into a realm of breathtaking photography. This fusion of innovation and artistry beckons viewers to scan, leaving them yearning to uncover more. Strategically placed at various photography exhibitions and events, these extraordinary cards act as a gateway to their portfolio.
Embracing the timeless allure of the natural stainless steel, Abastida Film & Photo knows how to captivate their audience. Maximizing the wow factor, we've thrown all the rules out the window and created these cards in a custom hexagon shape!
Prepare to embark on a visual journey and let the magic of a custom metal business card unfold before your eyes!
13. Living on the Edge – Black Metal Business Card for Photographers
Driven by their unwavering passion for art and photography, we designed these artful Black Metal Business Cards for Creative Edge Photography. Inspired by their vibrant location in Phoenix, Arizona, we aimed to capture the essence of their creative spirit.
Combining professional and an organic aesthetic, our Matte Black Metal Business Cards were the perfect choice. To infuse the design with the spirit of Phoenix, we employed a surface etching technique that brought forth an Arizona landscape, filling the center with a marigold spot color. These intricate details pay homage to the enchanting land and bountiful nature that Phoenix has to offer.
We also used a mesh cutout pattern of various circles sizes across the top of the card letting the light shine through, creating the feeling of an open starry sky.
Start your adventure today and order a set of Black Metal Business Cards!
12. Picture This! – Custom Photographer Business Cards
There's no question Ben is a photographer with this custom-shaped camera Metal Business Card! Ben chose Black Metal cards, with silver laser etching and red and white spot colors. This card is one of our favorites because of its unique shape and design. Custom shapes are included in our pricing as long as they fall within normal product dimensions!
11. Soar Above the Competition – Custom Photographer Business Cards
Eagle Photography went with a Copper Finish card to channel the rustic, earthy-side of their brand. The Eagle in their logo was CUT THROUGH the card as well as the holes on the top and bottom borders. For the content, they opted for surface etching only which accentuates the natural look of the Copper Finish Card –both distinctive and eye catching!
10. Focus Here – Custom Photographer Business Cards
We love Ryan Gonzalez's card for several reasons. This is a brushed, Stainless Steel Card with custom cut outs and black spot color. Ryan's Metal Business Card has a solid, balanced design with the shutter cut through the middle and his signature logo across the front of the card. His contact information can be found on the back on the card, which allows for his logo on the front to really STAND OUT.
9. Modern Card for a Modern Photographer – Custom Photographer Business Cards
J Alley Studios wanted a sleek, modern design for their Black Metal Business Cards. For the top, bottom, side borders and center logo, we laser etched off the Black Metal coating to expose the stainless steel underneath. The Black Metal Card surface is matte black, which looks very classy and sophisticated.
8. Shutter Out the Competition – Custom Photographer Business Cards
This Black Metal Card for Eduardo Hernandez is another favorite! Eduardo utilized silver laser etching for the card content and custom cut outs for the shutter/hole design. As a Photographer and Image Strategist, it was important for Eduardo to have a Metal Business Card that looked professional and set him apart from the competition. With his name prominently etched on the top, Eduardo's cards are sure to do just that!
7. The Gold Standard of Photography – Custom Photographer Business Cards
We recently produced these brushed, Brass Finish Cards for Alex Bays Photography. Brushed Finish adds a horizontal grain to the surface of the card giving it more character. These Brass Finish Cards remind us of GOLD, which makes them instantly stand out. Alex opted to have his name cut through – this added NO cost as custom cutouts are FREE!
6. Capturing All the Shots – Custom Photographer Business Cards
Kitwood Photography purchased Copper Finish Cards with two colors to keep with their current branding. They utilized custom cutouts, spot colors, and surface etching for the contact information. Etching without color yields a subtler look that many clients prefer. This Copper Finish Metal Business Card is STUNNING in hand! The cutouts combined with their colorful logo on the Copper Card tie the entire design together.
5. A Card With Your Signature Look – Custom Photographer Business Cards
This Copper Finish Metal Business Card was custom made for Lexi Perry. We love the way the white spot color highlights Lexi's beautiful and unique calligraphy-inspired logo. We added white spot color to make her name look artistically painted on the card. Custom circular cut outs align the right and left side, which draw the eyes inward to her logo. This is a custom Metal Business Card that shows attention to detail – just like Lexi's Photography business!
4. A Shot Worth Taking – Custom Photographer Business Cards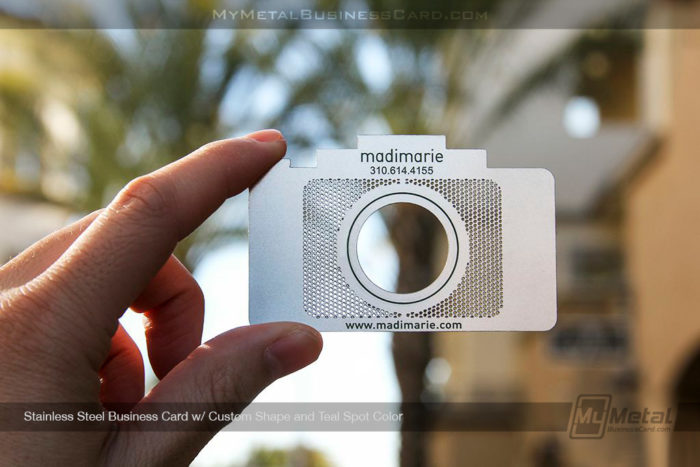 MadiMarie opted for a Stainless Steel Card with a custom shape and cut outs. Like Ben Harper, Madi chose a camera-shaped Metal Business Card to immediately distinguish herself. She kept it simple with just the essentials: her name, phone number and website. We like this card because it's unique and memorable!
3. Prestigious Metal Business Cards – Custom Photographer Business Cards
Arthur Poole, CEO of Prestige Worldwide Photography, also chose Stainless Steel for his Metal Business Cards. We added a hole cut out pattern around his logo and cut through elements of the logo as well. We used black spot color for the content, which is a recommended option if you're looking to have your information contrasted and easily legible on the Stainless Steel surface. Arthur's photography business cards are eye-catching and look nicely balanced – another solid execution by our in-house graphic design team!
2. Hit Them With Your Best Shot – Custom Photographer Business Cards
Kailey Schwerman utilized Stainless Steel with custom hole cutouts and surface etching for her Metal Business Cards. Surface etching on a Stainless Steel card appears light silver. Kailey had the word 'Photo' cut through the card as an added element to make her logo POP. All design features of this card are included in our standard pricing!
1. A Classy Finish – Custom Photographer Business Cards
This Metal Business Card for Gonzales Photography is a popular request among our photographer clients! The card is brushed, Stainless Steel with black spot color and custom cutouts. The Gonzales Photography logo is actually the Stainless Steel card surface – we screen printed the black spot color around it so the card surface shows through! The 'G' cut out solidifies the design and makes the card look classy, professional and established.
ARE YOU READY TO GET STARTED?
Here at My Metal Business Card, we dedicate ourselves to staying ahead in the marketing industry by providing the most popular and effective products for our clients. Our unwavering commitment to quality and service is what sets us apart from the rest!
Experience the difference today by getting started with your very own order of custom Metal Business Cards.
As the global leader in the Metal Business Card industry, we have earned our reputation through unparalleled service, competitive pricing, swift delivery, and a 100% satisfaction guarantee.
Our team of experts is ready to help design outstanding cards to match your brand. We have a 100% satisfaction rate for design because *nothing goes into production until it is approved by you*!