Published November 4, 2019
|
Last updated on July 29, 2021
The newest promotional product added to our My Metal Business Card product family are these classy and professional Leatherette Custom Portfolios!
Feel confident and ready to tackle your next business meeting in style with our NEW Leatherette Custom Portfolios!
This durable portfolio is made of high-quality, water-resistant canvas and rich leatherette – faux leather that's both strong and luxurious.
The combination of our leatherette and canvas make for a sturdy folder that will not only impress but will protect your notes and paperwork on trips or traveling to and from events and meetings.
The best part? Personalization is FREE!
Each portfolio comes personalized with your logo. If you don't have a logo, don't worry. You can pick from one of our logo options. The personalization is laser-etched and will appear black or silver, depending on the surface color chosen.
On the inside, your portfolio contains multiple pockets for organization, plus a full 50 page, 8.5 X 11" note pad!
Our clients have purchased Leatherette Custom Portfolios for:
Business meetings and taking documents on-the-go
Gifts for employees and staff
Group retreats
Birthday gifts
Graduation gifts
Company giveaways
Nowhere else will you find such a high-quality, affordable Leatherette Portfolio that comes personalized for FREE than through MyMetalBusinessCard.com!
Shopping for a customizable product has never been easier!
1. Simply place your order.
2. Approve your digital proof.
3. We'll ship within 3-4 days – just in time for your next meeting!
Low quantities are available so you can purchase one for yourself, give a few as a gift, or order in bulk for your whole company! Order yours today!

CUSTOM PORTFOLIOS FEATURE:
9.5 X 12" Dimensions
Durable Leatherette
50 Page Note Pad
Border Stitching
Personalization by Laser
FREE Artwork Set-Up
Ships within 3-4 Days
WHAT IS 'LEATHERETTE'?
Leatherette is an artificial material that is meant to simulate the look and feel of leather. Also known as faux leather, leatherette is usually made of natural or synthetic cloth fibers that have been coated with a soft PVC layer. Unlike real leather, leatherette material does not fade and it is less porous making it easier to wipe clean. It's also a less expensive alternative to real leather, which is made from animal hide treated with chemicals.
For these reasons, My Metal Business Card has chosen LEATHERETTE as the material for many of our promotional and gift products, including our new Leatherette Portfolios. Although real leather can be lasered, our Leatherette material produces contrasted colors which allows for an array of lasering options not available with real leather!

BASE COLORS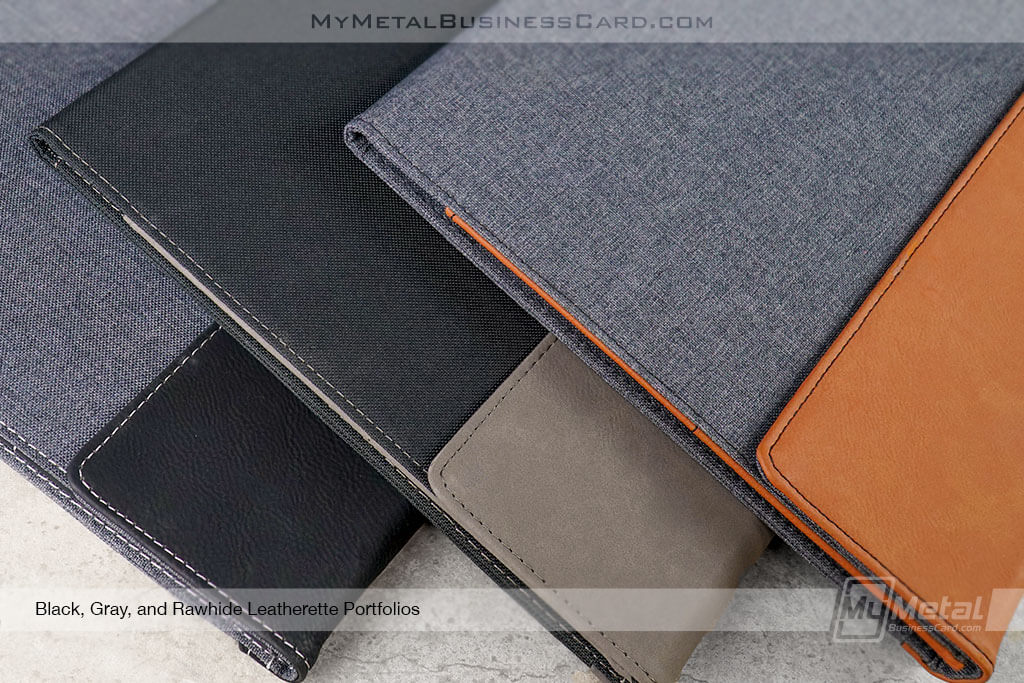 Choose your Leatherette Portfolio style:
Rawhide Leatherette and Gray Canvas Portfolio
Black Leatherette and Gray Canvas Portfolio
Gray Leatherette and Black Canvas Portfolio
LOGO OPTIONS
Simply pick from one of our pre-designed logos or upload your own.
If you choose one of our logos, we will update the design with your information and send you a proof of your new Custom Portfolios for review and approval.
With so many options, the possibilities are endless!

Check out these photos of our favorite Leatherette Custom Portfolios…
ORDERING MADE EASY
STEP 1: ORDER
Pick a Leatherette Portfolio quantity and place your order through our secure check-out.
STEP 2: PROOFING PROCESS
In 24 hours or less, you will receive a digital proof of your Custom Portfolios made by one of our professional designers. Simply let us know if you have any changes – we'll work back and forth with you! Once you're completely satisfied, confirm your artwork for production.
STEP 3: PRODUCTION & SHIPPING
After confirming your artwork, your Leatherette Portfolio will be produced in our state-of-the-art facility. Allow roughly 3-4 days while we create and ship your custom portfolio!
Order your Leatherette Portfolio now and experience the difference.
My Metal Business Card is the world leader in Metal Business Cards because of our service, price, speed and 100% satisfaction guarantee. Our #1 goal is to make you instantly stand out and leave a memorable impression. That being said, we'd love to work with YOU!
Contact us at 714.213.8155 or email Sales@mymetalbusinesscard.com to get started.