In the business of car detailing, quality and attention to detail are not just terms, they are elements that go beyond the visual appeal.
It's the feeling of driving a freshly detailed car, and the smell of a meticulously cleaned interior that lingers long after the service is done.
With custom metal business cards for your car detailing business, you are communicating your dedication to providing such an experience to potential clients before they even set foot in your garage.
Whether you are a newcomer to the industry, or a detailing master, it's time to take your business to a whole new level with a custom metal business card.
From their impressive design, to their intricate details, metal business cards are more than just a marketing tool; they will set your business apart from the competition.
Cruise through the list of our Top 10 Car Detailing Business Cards:
10. Elite in the Streets – Stainless Steel for Car Detailers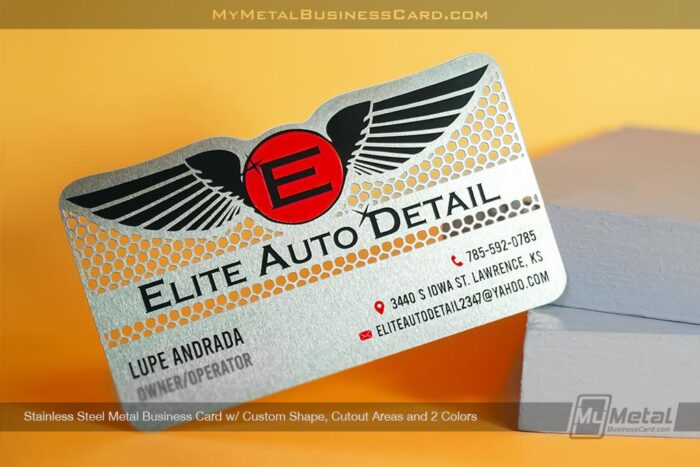 Priding themselves in their auto detailing expertise, Lupe Andrada of Elite Auto Detail knew they needed our card designing expertise to create something truly outstanding.
Perfect for the automotive industry, our Stainless Steel Metal Cards have the right mix of industrial and professional. Using a chemical etching process, we created a unique silhouette across the top of the card, hugging the logo. With the same process, we also cut a mesh honeycomb pattern throughout the card for additional visual interest.
Red and black spot colors were used to screen-print their logo boldly and cleanly for punchy effect. Keeping with the same colors to match the branding, we applied the contact information with pops of red for the icons.
With our various customization options, we can create cards with layers of detail to perfectly fit your vision.
---
⭐⭐⭐⭐⭐ 
"I love my metal business cards! Thanks so much for the artwork and great design!. My customers have told me they will use me just because I have the coolest cards!!! No BS."
– Zeus Automotive Repair, Georgia – My Metal Business Card client
---
9. Notch Your Average Card – Black Metal Business Card for Car Detailers
When working with a client who's slogan is, "Your only limitation is your imagination", we knew we were about to create some truly awesome cards together.
The team at Top Not Automobile Agency wanted a custom shaped Black Metal Business Card with a unique flair. We silver laser etched the content on the cards along with the car image, creating a bright contrast on the matte black card surface.
For an even more unique element, we screen printed a semi-gloss black tire track across the length of the matte black card for a tone on tone effect.
These suave Black Metal Business Cards are sure to steer new clients towards their business!

8. Are You Ready? I Am – Brass Finish Metal Business Cards for Car Detailers
The team at I AM DETAILING needed a card to back up their commitment to, "quality, the craft, and an unrivaled attention to detail" and a custom Brass Finish Metal Business Card does the trick.
Elegant with a hint of grandeur, the soft finish of our Brass Finish cards speaks volumes without having to add an overload of detail. We used a classic black spot color with the small line of text for some subtlety against the impressive cutout. With chemical etching we were able to cut their logo out of the cards by adding support bars to make sure the lettering didn't fall through.
Keeping the front side simple and intriguing, all of the contact information and details are listed on the backside of the card in a matching black spot color.
Handing a custom Brass Finish Metal Business Card to a customer with have them thinking, "I AM impressed!"
7. Clinically Creative – Stainless Steel Metal Business Card for Car Care Specialist
From a pandemic project to full-grown business, detailclinic needed a boost to help their growing business reach new heights. Luckily, we were there to deliver a dose of custom Stainless Steel Metal Business Cards, the perfect medicine!
A classic and clean slate, our Stainless Steel Business Cards work as the perfect canvas for the dual automotive and medicinal imagery detailclinic invokes with their branding. Using chemical etching, we applied a mesh cutout pattern across the top half of the cards, leaving the logo solid in the middle.
Two toned blue spot colors were used for the business name and title, matching the company colors and complementing the cool tones in the steel. We also surface etched a delicate border along the bottom half of the cards for a finishing touch.
A custom Stainless Steel Business Card is sure to drive sales right into their business…literally!
6. Proclaim to Fame – Black Metal Business Card for Auto Detailing
With a passion for the fine art of car detailing, Mike Tawekjian owner of PROMOBILE Auto Detailing knew no ordinary paper card would showcase the dedication to his work. Joining forces with our design team, we tailored this sleek Black Metal Business Card to perfectly compliment his business.
The matte finish of our Black Metal Business Cards is timeless and professional, perfect for PROMOBILE as they tend to an array of vehicles from high-performance automobiles and classic cars.
For a bit of liveliness we used yellow and green spot colors to match their logo, and a blue for his name for an extra pop while sticking to cool tones. Special to metal cards, we cut a hexagonal patterned bar across the bottom for added visual interest.
These cards clearly drive home the fact that the artistry and quality of the services they provide are unmatched!
5. Once Upon A Card – Brass Finish Business Cards for Coach Detailing
Treat your clients like royalty by presenting them with a Brass Finish Metal Membership Card!
Reminiscent of gold, there was no better choice for Artistic Auto Detailing's Metal Membership Card than our Brass Finish. Using a surface etching technique, we etched down a pattern into the card surface at 10% depth, creating a luxe background with added textural appeal.
We screen-printed the surface of the card in black, allowing the gold finish to show through the negative space, revealing the ornate logo and text. Adding a personalization via Variable Data to the cards, each one was silver laser etched with a membership number, exclusive to that client.
When operating as the leading detail service in Beverly Hills, it only makes sense to offer a membership card fit for a king.
4. Color Me Clean – Stainless Steel Business Card for Car Detailing
Race to the top with a Stainless Steel Metal Business Card with custom cutout patterns!
A popular design choice amongst the automotive in industry, our Brushed Stainless Steel finish offers an authentic metal feel with an extra flair. Using a custom cutout pattern, we added intricate top and bottom borders to the card creating an impressive display, while leaving enough room for important information.
A cool black spot color was used for most of the text, while a bright red spot color jumps off from the card drawing your eye straight to the name.
Creating a custom Stainless Steel Metal Business Card will be your ultimate grand prix!
3. Meant For Hugh – Black Metal Business Cards for Car Detailers
Brandon Hugh, owner of Hugh's Detailing wants you to see what makes them stand out from the rest, and a big part of that is their custom Black Metal Business Card.
One of our most popular choices, our Black Metal Business Cards stand apart with their deep black finish and soft matte texture. Offering custom shapes, we cropped a corner off the card creating a fresh new silhouette. Using chemical etching techniques we added a level of complexity to the cards with a custom mesh cutout mirroring the logo. A bright white spot colors contrasts against the black finish, showcasing the business name.
A second vibrant red spot color is used to amplify the logo and add a dose of flair with a crisp border.
Hugh deserve to stand out! Order your own set of Black Metal Business Cards today!
2. Formula For Success – Black Metal Business Cards for Auto Detailers
Unexpected and unique, a round Black Metal Business Card is much more memorable than a typical rectangle!
We know they key to success is making an impression, which is why we created a custom circle card for Carbonate Auto Detail. Included in our base pricing, we can shape your card into any form you can dream up.
Also included, we combined surface etching and silver laser etching to add two different version on the honeycomb pattern to their cards. Keeping things sleek and simple, no spot colors were used allowing the clean lines of the etching to shine.
These are truly the coolest cards aROUND!
1. Soaps and Dreams – White Metal Business Cards for Car Wash
Clean and tidy, our bright White Metal Business Cards bring a fresh new look to your branding!
As someone who works in a business that depends on cleanliness, Jeromie Caha, the COO of Soaply, recognized that, our White Metal Cards' striking finish would evoke the sense of pristine perfection. Available in both glossy or matte, the stark white attracts your eye and stands as a great base for flashy logos and bright colors.
To maximize design potential, we cut a diamond mesh pattern thorough the card, intricately tracing the outside of the logo, and the custom cutout business name. The graphic nature of the logo in tandem with the navy and red spot colors work well to create a fun and almost retro appeal.
Wash away the competition with a custom set of White Metal Business Cards!
---
As a professional in the card detailing, you need a high-quality card that makes you stand high above the rest! Created with custom details, and available in impressive finishes, these cards will make you stand out and keep client's racing through your door.
We want to make sure you walk away with a unique card design, which is why our standard pricing includes free etching front and back, unlimited cutouts and one screen-printed color, making design possibilities endless.
We work hard to earn your business as a customer for life because we truly believe in the impact our products have. This is our guarantee:
We guarantee that your business cards will make you stand out or we will give you your money back!
When you are ready to get started, contact us at Sales@mymetalbusinesscard.com, call us at 714.213.8155 or use the chat widget on this site, so we can help design unique Metal Business Cards perfect for you and your business!
⭐⭐⭐⭐⭐
"My card turned out amazing. Everyone I show is impressed by them and would never guess that I am new to the business!" – My Metal Business Card Customer
⭐⭐⭐⭐⭐
"The reaction I receive when I hand out my cards is always WOW. I want them to remember meeting me, and they do." – My Metal Business Card Customer
⭐⭐⭐⭐⭐
"These Cards are stunning. Business conversations switch away from price, and move to quality and service and value when customers see them. They change the customer's impression of every aspect of the interaction upon receiving one." – Craig B.