Looking for professional business cards for the construction industry? Look no further! When you're judged by the quality of your work, and trust is everything, what better way to introduce yourself than handing a prospective client or partner a custom "constructed" metal business card that creates an instant statement about your level of professionalism?
---
Here are some of our favorite metal business cards for builders, construction, home renovation, and remodeling companies. They surely stand out and make a huge statement about the level of professionalism of these companies!
32: Sky's the Limit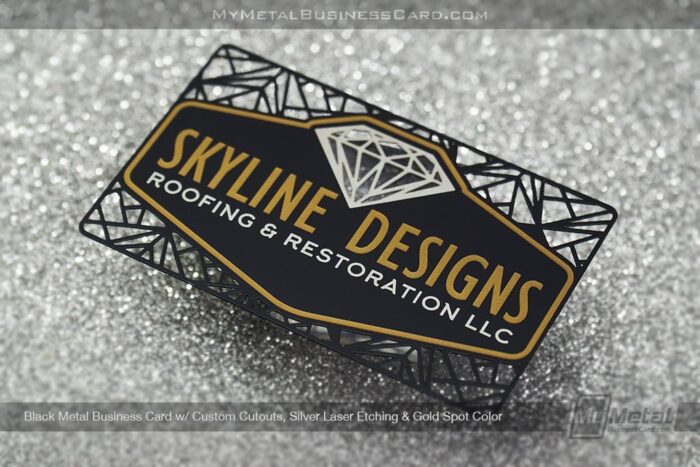 Working with Skyline Designs over the years we've designed several cards for them, but this stunning Black Metal Business Card stands as the crown jewel.
The silver laser-etched diamond logo dazzles just like a true jewel, standing out against the sleek black metal. Complementing this elegance is the metallic gold spot color, a regal touch that matches the same level of luxury as the matte black finish.
To enhance the angular cutouts within the diamond, we created a special cutout pattern with a mosaic like effect to border the top and bottom of the card.
Shine bright like a diamond while handing out your own custom Metal Business Cards!
31: Reach New Heights
Making you stand out is our specialty, and these Stainless Steel Business Cards are taking Terrazas Roofing to new heights!
Focusing on exceptional quality, they were instantly drawn to our classic Stainless Steel Business Cards. Made from raw 0.5mm (about 0.02 in) stainless steel, these cards are a true testament to quality craftsmanship that is sure to shine through as a reflection of their own business.
Using cut through areas we took their roofing logo and etched it right through the card! As an added detail, we used a pattern inspired by roofing tile as a unique border along the bottom.
Letting the stainless steel speak for itself, a neutral black spot color spells out the business name while surface etching was used for the additional text.
The pROOF is in the pudding! Experience the magic today with your own set of Stainless Steel Business Cards.
30: Believe the Hype! 
Hype Roofing was looking for a truly unique business card to turn some heads and we rose to the occasion with these Rose Gold Metal Business Cards!
Truly eye catching and at the forefront of current trends, our rose gold finish is a daring yet smart choice. To not distract from the color of the card itself, we used a clean black spot color for the logo and business information.
Using chemical etching we cut out a mirrored image of their logo as an impressive detail. Adding an extra touch of detail work we cut a staggered line pattern in opposing corners drawing focus across the entire card.
Hype up your potential clients by handing them an amazing Rose Gold Metal Business Card!
29: Window To Success
Creative Roofing Solutions offers unique metal roofing, so there was no doubt that Stainless Steel Metal Business Cards were a match made in heaven!
Upgrading to two spot colors, their business name was printed in bold black, while the roof image and reversed out slogan were printed in their signature green.
Small cut-out areas were used to amplify details like the windows in the logo, and a fine mesh pattern in the upper corners. Surface etching was used to etch a shingle pattern into the stainless steel for a subtle textural element.
Creative Roofing Solutions touts that metal roofing is a "wise investment" due to its ability to stand the test of time. The same can be said about a Metal Business Card! Unlike paper cards, these will serve you for years to come with a permanent place in your client's wallet and an instant and unforgettable impression in their minds.
28: Stone and Steel 
Built from the ground up, the family owned and operated Stonewater Roofing needed a card built with the same passion and commitment as their business. Layer by layer we created a set of pristine White Metal Business Cards to help build them up!
Smooth and bright, our White Metal finish is available in both glossy and matte, acting as a blank slate for your perfect vision. Keeping these cards straight to the point we screen-printed their logo and business name large and crisp in black and blue spot colors.
Included with our fully custom cards, we cut out a brick pattern as a top and bottom border, perfect for their roofing business. We also cut out the top area of their logo, which is usually printed white, to add an extra special wow factor.
Ready for a custom set of Metal Business Cards? Water you waiting for?
27: Rock You Like a Hurricane
With a name like HurricaneRoofer.com it was our mission to create custom Metal Business Cards that will blow you away!
Cool and grey like a stormy sky, our Stainless Steel Metal Business Cards were an easy decision to make as a jumping off point. Two cool blue spot colors were used to match their logo and to complement the cool tone of the steel.
We angled our brick pattern at a diagonal for a creative new take that blends roofing style cutouts with the movement pattern of falling rain. We also used surface etching for the hurricane cyclone, making it standout in a lighter silver tone.
Redefine networking with Stainless Steel Metal Business Cards – weathering any storm of impressions with unwavering professionalism!
26: Forging Legends
To live on as a legend one needs to exude greatness and leave a lasting impression! Not one to get left in the dust, Legends Roofing commissioned not one, but TWO different types of custom Metal Business Cards. Talk about a power move!
Keeping the cards cohesive, we reversed out the color schemes starting with a Brass Finish card and a black spot color and complementing those with a Brushed Gunmetal card and metallic gold spot color.
Using the same surface etching technique, we etched their roofing logo into the surface of the cards to create a custom pattern. Using the same processes across our different finishes can result in several visually striking results.
Keeping the branding on point, we screen printed their logo in the dead center of the cards in a contrasting spot color.
25: Cards of Legend
Black Metal Card for construction with custom brick cut-outs, Pantone red detail, and spot colors.
Striving to be anything but average, Savage Roofing Inc. chose a Matte Black Metal Business Card to fight their way through the competition!
Designed to complement the logo and incorporate roofing imagery, we created a custom brick cutout pattern. The cutout pattern hugs both sides of the card while leaving ample room on the backside for additional information. The rugged design features the bold Savage Roofing logo, in standout gray, white and red spot colors to match their branding.
Just as legends never die, these cards will live on in the memory of all who behold them!
24: Unique Cards – Quality Sales
Copper Finish Metal Business Card for construction with honeycomb mesh cut-outs, Pantone teal detail, and black spot color.
The cards for carpentry experts Walters Fine Carpentry truly serve their brand promises. Choosing Metal Business Cards showcases a dedication to quality products, and is a unique and memorable token.
Our Copper Finish's brushed effect and rustic flair make it a popular choice for the construction industry. The cool teal spot color bounces off the warmth of the Copper Finish Metal Business Card creating a beautiful contrast while keeping a more understated palette. To add another element of intrigue to the cards, we used a honeycomb mesh cutout pattern to contour the rounded arch of the logo. The custom qualities in this card will have clients yearning to create a custom home for themselves!
23: Cracking Open Opportunity
Black Metal Bottle Opener Card for construction with custom shape and spot colors.
J.P. Crivello of Crivello Bros. Construction knows the value of strong client relations, and wanted to extend that sentiment through a card that cultivates shared communication.
The matte black metal finish creates a sleek base for the blue and white spot colors to speak loud and clear. We created a specialized shape for the cards to match the sloped logo, and mirror the silhouette of a roof. As an added bonus and tribute to the construction theme, we applied a chain link fence pattern to the background in a semi-gloss black spot color for a subtle pattern and hint of design. Create connections by creating experiences with a set of custom Metal Bottle Opener Cards!
22: These Cards Are GODLY
Copper Finish Metal Business Card for construction with honeycomb mesh cutout pattern, surface etching and black spot color.
Taking inspiration from the power of the gods themselves, these Copper Finish Metal Business Cards for T.R. Electrical & Plumbing are ready to strike down your competitors!
As the most prominently used material in both electrical and plumbing, a Copper Finish Card is a no brainer for these industries. For maximum impact, we blew their logo up to full size, spanning the height of the card and applied it with a bold black spot color. For added effect, we used a cutout pattern to carve out the back silhouette and create more shape. The same black spot color was also used to apply the contact information for a cohesive presentation, complete with a small lightning bolt detail surface etched into the card. The impact of this card rivals the might of Zeus himself!
21: Saving The Day
Black Metal Card for construction with custom brick cutouts, Pantone red detail, surface etching, silver laser etching, and spot colors.
Having a sales emergency? Metal Business Cards are here to save the day.
Heroic Roofing wanted a card that displayed pride in their country, without taking it over the top. We kept their logo in full color with a combination of spot colors and silver laser etching for the detail work. When working with bold spot colors like red for your logo, our Matte Black Metal Business Cards create the ideal canvas. A surface etching technique was used for the American Flag to create a slight shadow effect in the body of the cards. Using our signature custom cutout patterns, a brick cutout corner completes these cards and topping of the roofing element to the design. Be a hero for your company by providing custom Metal Business Cards!
20: Paint a Picture
Copper Finish Metal Business Card for construction with custom brick cutout pattern, surface etching, and Pantone blue spot color.
Paint a mental picture for you clients of the experience you provide with a Metal Business Card!
We designed this card for Krystalyn Mayse of MPC Painting & Contracting with details that bring their contracting business to life. With custom cut through areas, we created a brick pattern for awesome effect reminiscent of roofing. A delicate surface etching process was used for the M and C of the logo, along with smaller details and a custom tile work pattern. Using their signature sky blue, we used our semi-gloss pigment for the important contact information, and to pop some elements of the logo. Let us help create a vision for your own set of Copper Finish Business Cards!
19: Patterns of Success
Black Metal Card for construction with custom surfaced etched pattern, cut out logo, and Pantone blue spot color.
Create a new perspective and try out a vertical Metal Business Card!
Just as he remodels homes, James Duenas of Ree Alpha Construction Inc. wanted to remodel his marketing with a custom Black Metal Business Card. For a change of perspective, we switched things up with a vertical layout to mirror the orientation of their high-rise logo. We cut the logo through the cards for additional enhancements, and light blue spot pigment was added for a touch of color. Using a 10% surface etching, we constructed a spiral design directing attention to the center of the card. Rise to the occasion and get started with your own designs today!
18: Strike it Rich
Brass Finish Metal Business Card for construction, with custom cut out pattern and black spot color.
Take a look at this luxury Brass Finish Metal Business Card designed especially for Mucina Stone Décor, reflecting the same quality craftsmanship they put into their own work.
Custom cutout patterns to emulate stone is the ultimate design feature to take advantage of as a stone working company. My Metal Business Card includes any cut-out areas in the price of our standard cards! The black spot color works with the statement logo to create a card that is a touch flashy, yet completely refined. The gilded display of these cards is enough to earn a double take, if not more.
17: Metal Cards for Construction?…Groundbreaking
Stainless Steel Metal Business Card for construction with custom diamond plate cutout pattern, and black spot color.
Mike Wood of Ground Breakers Excavating will be building home foundations AND his business with this set of custom Stainless Steel Metal Business Cards.
When looking for a simplistic card, adding a small detail like a custom diamond plate cutout pattern can make all the difference. Placing the company's sharp triangular logo right above the centerline makes the card look taller, and leaves some extra room for Mike's information. Using a custom shape, we also let the logo break past the edges of the card body for a truly unique piece. Sturdier than paper or plastic cards, each steel card is ready to take any adventure and thrive even in your construction zone.
16: High Connectivity
Copper Finish Metal Business Card for construction with cutout flag background, and two spot colors.
ASPLUNDH's mission statement includes being recognized as a world leader in their craft. We can't imagine any world leader handing out any old paper card, which is why they came to us for some custom Copper Finish Metal Business Cards.
The rustic feel of our brushed copper finish makes a popular choice for construction, while also standing out with its unique color composition. Using their vibrant branded orange for their logo makes these cards easily recognizable. A black silhouette of a power line worker speaks to their work and falls nicely against the cutout of the American flag. It's clear that ASPLUNDH takes pride in their work and their business with such an impressive card.
15: Mullis Construction Group
Mullis Construction Group has a complex logo that needed to be balanced with a strong overall design. The fan-favorite brick cut-out pattern we used in the background was more than up to the job, and goes perfectly with the Copper Finish. A really outstanding card!
14: Goode Interiors Inc.
A sensational luxe card designed especially for Sherri Goode of Goode Interiors.
Custom cut-out patterns are a great way to show off your personality – and this cheetah print cut-out pattern on these Brass Finish cards has a real sense of style.
My Metal Business Card includes any cut-out areas in the price of your cards!

13: Silverado Cards for Construction
Intricate brickwork is one of Jake Montgomery's specialties, so he was keen for his cards to have a cut-out pattern with the same feel.
We were delighted to create this simple but sophisticated stainless steel card to showcase his skills and his business.
12: James K. Hafke Plumbing
A card that shows the practical side of metal business cards. Placing the company's distinctive branding front and center, this eye-catching card is a perfect blend of traditional and modern.
And unlike paper or plastic cards, each robust card comes in its own protective sleeve – hard-working cards for a hard-working business.
11: Makita – Cards for Construction PROS
⭐⭐⭐⭐⭐ "The reaction I receive when I hand out my cards is always WOW. I want them to remember meeting me, and they do."
A powerful design for a household name in power tool manufacturing. We love these tough but elegant black metal business cards for world-class toolmaker, Makita.
Created as a custom order for the company's top executives, the sleek design makes a feature of the iconic Makita logo, surrounded by a large honeycomb mesh. Pantone Red and silver laser etching make the details really pop.
10: Keuka Studios
Here's a stainless steel card with a difference!
During the production process, we coated the cards with matte black (just like a standard black metal card), then we laser-etched the coating to reveal the stainless steel beneath.
And that's how we created the distinctive matte-black-on-stainless-steel look that Keuka Studios team was hankering for.
9: Complete Lease Services
The debossed look of these cards for Complete Lease Services LLC is just a little bit different.
To make the cards look debossed or stamped we etched them down in a unique pipe pattern, then coated them with matte black finish. A great example of the power of a tactile card.
8: RVA Restoration – Cards for Construction and Restoration
The cards for construction pro, Jeremy Ford of RVA Restoration reflect the nature and personality of his business in a truly memorable way.
The wood grain pattern was surface etched onto Copper Finish Metal Business Cards for construction field pros' favorite rustic artisanal look. We can't stop touching them!
7: The Tradesman Electric
The Tradesman Electric Inc logo features strongly in a 'portrait' upright design, with the central symbol surrounded by cleverly-configured cut-out space on this favorite in our Cards for Construction list.
The choice of dark blue spot color was another flash of inspiration. A great example of existing branding re-interpreted for a bold and eye-catching look.
6: The Phillips Screw Company
When The Phillips Screw Company needed metal business cards – and needed them quick – they knew just where to come!
Our bottle opener metal cards were perfect for their needs, and the company was delighted with our ability to deliver within 24 hours. So when you need your cards for construction fast, give us a call!
Maximum impact with a fast turnaround – that's what My Metal Business Card is all about!
5: Rock Solid Exteriors
Copper Finish Metal Business Cards with a unique cutout in the shape of Rock Solid Exteriors' logo.
To allow CEO Levi Moore's information to stand out, we used a Black Spot Color for all text and secondary logos on the card.
4: Rustic Welding
For David Murphy of Rustic Welding, we created a card that really lives up to his business name.
For a rustic yet rugged look metal card, we used surface etching for all the content on the cards, with a mesh cut-out pattern to bring more emphasis to his logo.
3: Adam Thorne, Locksmith
Our square metal business cards pack the same big punch as their larger siblings, but in a neat compact space.
To add an extra wow to Adam's cards, we created a typographical surface-etched map to complement the compass design of his logo.
2: Super Roofman
Kyle Davis of Super Roofman had a simple request. 'Make me cards that are cut-out to look like a roof!'. And that's just what we did with his stand-out stainless steel business cards.
The amazing custom cut-outs are teamed with strong spot colors to make Kyle's contact info really jump out!
1: Carpenter Square
When is a business card not a business card? When it's a carpenter's square of course!
Just one of the many custom designs we've got up our sleeves at My Metal Business Cards for construction pros like you!
Have a project in mind? Our team can help with everything from detailed pricing to the design and precise execution of your project. Give our friendly team in Los Angeles, California a call now on 714.213.8155, or use the chat widget on this site.
---
Bonus: Custom Metal Tumbler
And remember, we do more than 'just' cards for construction companies.
This amazing metal tumbler mug is a classy way to keep your name in front of your clients.
And all our metal tumbler prices include your logo laser-etched into the durable and stylish powder coating. You don't even need an existing logo – just tell us your business name and we'll make sure your promotional tumblers look sensational.
---
For years, the standard business card for construction fields has been little more than a thick rectangle of paper with your name and contact details on it. It has served a purpose but has now become tired, drab, and uninspiring.
That's why you should consider switching to metal business cards. A metal business card uses cutting-edge technology to help you get the edge on the competition and has many benefits when stacked against its paper counterpart.
When you switch to metal business cards, you can immediately see the boost it gives to your business, and here are a few reasons why:
Metal Business Cards Make You and Your Business More Memorable
'Oh yeah, that was the guy with the metal business card.'
Let's face it, you've probably been handed hundreds of paper business cards over the years, and handed out your fair share of them too.
White, thick paper cards don't really stand out, but once you hand someone a metal business card, you are instantly etching a place in their memory.
The certainly aren't going to stuff it in their pocket with the non-descript paper counterparts that they've probably already forgotten they have.
A metal business cards makes you stand out from the rest and gives you the edge when it comes be being remembered.
Here's what our customer Steven W. said:
⭐⭐⭐⭐⭐ "Being in my industry for 20 years and 9 of those in upper management, I deal with a lot of vendors day in and day out. I get tons of business cards, and to be honest i just trash them. Then one day a rep came in and gave me his business card and it was metal! the conversation changed… It put him on a whole different level in a second like that in my mind…Sh*t, even if I didn't like him, I still would not throw that card away, you just don't, you are just accustom to keep something different and unique. I even went out of my way to show my colleagues!"
⭐⭐⭐⭐⭐ "I got metal business cards, and people were blown away…I have NEVER had a business card make such an impact before…people value it, they keep it, they show others…AWESOME purchase"
Metal Cards Are More Durable
On a purely practical level, a metal card will be more durable than a paper version.
For a start, they aren't going to get dog-eared and dirty in the same way a white paper card can. They can withstand a fair degree of punishment, include liquids (and sweat!) and being stuffed into pockets, wallets, or toolboxes.
With paper cards, printed logos, designs, and letterings can fade over time, but with a metal business card, those components are etched on expertly and are there to stay. This makes it far less likely that someone will toss paper cards in the trash.
Here's what some of My Metal Business Card customers are saying:
⭐⭐⭐⭐⭐ "I have given my cards out to $123,975.00 of work. Each one of the contacts mentioned that the cards were very memorable. That I stood out, thats one strong reason I was awarded the projects…"
⭐⭐⭐⭐⭐ "We work in construction and our cards used to get sweaty and fall apart, the metal cards are not affected by sweat. Builders and Architects are always impressed with our cards."
⭐⭐⭐⭐⭐ "They really do set yourself aside from anyone else handing out a paper card. My first order was better than I expected! Clients and Customers don't feel like they can throw this away, so they sit on their desks or in their homes, and give constant "organic" advertising to anyone who sees them! I love people's reactions to them, totally worth investing in!"
⭐⭐⭐⭐⭐ "The WOW I get every time I hand one to a potential client is PRICELESS. They separate me in a saturated market."
⭐⭐⭐⭐⭐ "My metal business cards are simply amazing. You talk about creating a lasting impression. When you are in a large group of peers and everyone is talking about you…WIN!"
⭐⭐⭐⭐⭐ "I found My Metal Business Card on Instagram. After buying paper business cards in the past and seeing them fall apart in my wallet I needed a "commercial grade" business card. Metal business cards are the answer. Not only will the cards stand out, but they will hold up over time."
⭐⭐⭐⭐⭐ "My card turned out amazing. Everyone I show is impressed by them and would never guess that I am new to the business!"

⭐⭐⭐⭐⭐ "Your product generates BUSINESS"
⭐⭐⭐⭐⭐ "The card is very impressive and does exactly what I wanted it to do for my clients… Impress. Hand them a metal card…it gives you immediate legitimacy which is good in my profession"
⭐⭐⭐⭐⭐ "This is more than a product! Handing my business card to people not only helps me stand out but also keeps me top of mind. Everyone I have dealings with remembers my company because they keep my card on hand. Thanks test.mymetalbusinesscard.com for helping me grow my business in ways a paper card never could."
⭐⭐⭐⭐⭐ "My Metal Business cards have helped me get a wow factor at networking events."
⭐⭐⭐⭐⭐ "excellent!=) everyone LOVES these cards!!! The cards are so amazingly cool and different… they are an automatic conversation starter!!=) Kelly"
⭐⭐⭐⭐⭐ "My typical commission is minimum $10,000 so one person that calls me in a year from my cards posts for itself."
---
What can make YOU special is that you'll be the person with the metal business cards for construction needs.
The one that raises eyebrows when it's handed over…
The one that makes you appear differently in the eyes of the person who's receiving it…
And the one which won't end up squeezed up next to all the others, getting dog-eared and discolored over time.
Do you want to chisel out a place in someone else's mind? Carefully craft a lasting memory?
That's where we come in.
And you're in luck because we at My Metal Business Card are the best in the world at creating bespoke metal business cards, which are easy to order, but difficult to forget.
You know the saying "People will forget what you said… but people will never forget how you made them feel."
Sliding a metal business card into the palm of their hand will make create a lasting feeling, both physically and mentally.
You can start to imprint yourself on the mind of a potential client right now.
So why wait?
My Metal Business Card has helped constructors and home builders big and small across the world to get more clients, maintain a VERY healthy pipeline of leads and word-of-mouth referrals with custom metal business cards.
You can have an initial proof of your own, custom-designed metal business card in a matter of hours with our Stainless Steel Cards Starter Pack or the Black Metal Executive Pack.
Both packages include free professional card design by our in-house team and free US shipping for a single, low packaged price you won't find elsewhere. Choose your option below.
Classic Stainless Steel or Luxurious Black Metal?
Stainless Steel Metal Cards Starter Pack – currently $199 (Save 38%)
Black Metal Executive Pack – Currently $399 (Save 30%)
Or, if you just want to find out more about metal business cards and ask a few questions, give our friendly team in Los Angeles, California a call now on 714.213.8155, or use the chat widget on this site.