"I used to have this worry about just being another card in my potential client's stack. That does NOT happen with my metal cards. The WOW I get every time I hand one to a potential client is priceless. They definitely separate me from others, in a saturated market." – Dave E.
At MyMetalBusinessCard.com, we love producing custom projects for our clients to ensure they make a lasting first impression.
Whether it's suitcases or copper barrels or taxi cabs, we have designed and manufactured metal business cards in all shapes and sizes as an extension of our client's brands and these cards continue to work for them long after they have been handed over.
So why not be BOLD when it comes to deciding what type of business card you want?
Don't let your card stack up in a brick of 100 boring and undifferentiated cards.
66. Cards that will literally get you SPOTTED!
When Sherri came to us with a revision to her previous cards, we knew these would hit the SPOT! Sherri's last order had a simple mesh pattern, but she wanted a fun but sophisticated animal print so that is exactly what we did!
When it comes to Metal Business Cards, you can't go wrong with Brushed Brass Finish Cards, they are luxury and sophistication all in one! (It should be no surprise that this finish will show up a few times on our top Business Cards for Women list) Our Brass Cards always pair well with Black print for an easy to read card no matter the lighting.
65. Like sipping top shelf whisky, these cards are NEAT!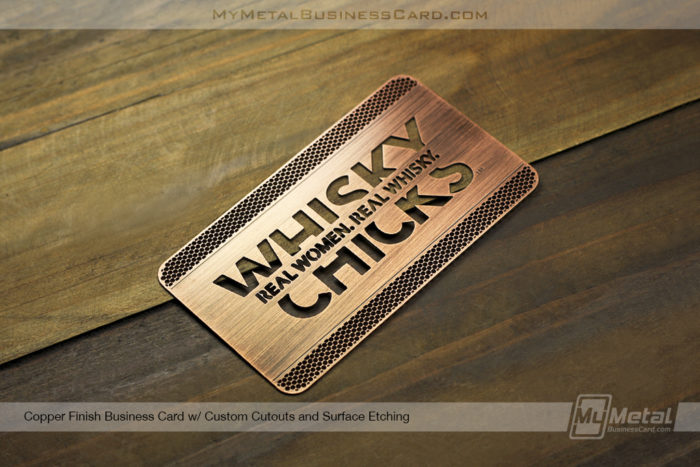 True to their vision, Whisky Chicks knew they needed a card that would invoke the "badass" energy of a confident woman in the fine spirits industry. It's safe to say these Brushed Copper Finish Cards really hit the mark!
With a large and in charge custom cut out logo, they leave no questions as to who they are, and will leave a long lasting impression amongst their prestigious club members – as well as a spot on our Top Business Cards for Women list!
Reminiscent of traditional copper whisky stills, these cards are MADE for their branding and will surely drive new in new member sign ups!
64. Classic yet Cutting-Edge, these cards are DRIVING sales!
Monica, owner and president of Royal Boss Chauffeurs, chose our trendsetting Rose Gold Finish for her cards!
Showing her dedication to luxury and elegance, her choice of custom filigree surface etching paired with a standout black spot color, adds a note of opulence and professionalism.
Delicate yet strong, finding the perfect balance of design can take your branding to the next level!
63. Heineken
Here we have a Black Metal VIP Card we produced for Heineken. The design has custom cutouts around the red star with all other content etched and filled with green and white spot color.
Matte black is a popular choice for Metal Membership Cards for Breweries because of its sleek & executive look and feel. By adding variable data to an order, we can personalize each card with a name or number or both, if needed. Simply supply an excel sheet with the data, and we'll take care of the rest!
62. Copper Barrel Distillery
This Copper Finish Business Card was created for Copper Barrel, a distillery in North Carolina. The custom barrel shape is a popular request among our brewery and distillery clients. Custom shapes are included in our pricing!
The company's name 'Copper Barrel' is cut through the card while the rest of the content was chemically etched down creating a slight depth into the card's surface.
61. No Flux Given – Copper Finish Business Card for Welder
AMA Welding Solutions has a complex logo in need of a strong base to bounce off of. Our rustic yet modern Copper Finish adds the perfect edge to any of our cards, elevating its sense of style without compromising the overall design.
Using custom cutouts for the logo and name as the main focus of the cards, the contact information was then applied with a classic black spot color for a classic finishing touch.
60. Heavy Metal Welding and Metal Fabrication Business Card
We produced this brushed, Stainless Steel card for Derrick of Ozarks Welding and Fabrication. Derrick's Metal Business Card is made up of multiple processes which help it to stand out, including the sleek brushed finish.
The perfect way to level up a standard Stainless Steel card is to give our brushed finish a try. This introduces an entirely new dimension of texture and depth to the cards. Next, Derrick utilized cutouts for the stripes in the American flag to further showcase special abilities available with metal cards.
59. Tippin' The Scales
Clean and fresh, our White Metal Business Cards offer the perfect canvas for TIPPINSLUXE REALTY to show off their style.
The blue and gold spot colors truly pop against the bright, smooth-white finish, showing off the TIPPINSLUXE signature colors. Intricate details like the blue detailing in the middle of the custom cut through bar showcase a dedication to quality and precision.
We know that luxury clients have an eye for detail, which is why each of our cards is carefully handcrafted and designed to match your perfect aesthetic.
58. The Right ONE
Opting for our popular Stainless Steel Business Cards, Mike Vaupel of Realty ONE Group chose to showcase the natural finish of a true metal card. Although our various finishes are impressive, a pure Stainless Steel helps to highlight the special quality of holding a metal card in your hands.
Custom cut through areas are a huge design advantage to metal cards, and add an impressive flair to any piece. Using our chemical etching process, we cut through a sweeping mesh pattern along with custom cutouts inside the logo. A traditional black spot color was used for the contact information, and a gold spot color for the logo to draw attention!
57. Pointing to Success
As one of our best sellers, our Stainless Steel Business Cards are the perfect way to show off the truly unique look and feel of a metal card. The raw Stainless Steel brings forth the unique quality of holding a metal card in your hands.
With chemical etching, we applied a custom shape mesh pattern to contour the bold arrow shaped logo. The large logo and black screen printed QR codes balance out the card and make a statement. With no other readable information on this side of the card, the recipient can scan the QR code to be taken directly to the company website.
56. A Rose Coded Card
Being acquainted with the latest trends in design and technology places you in the forefront of competition. NARA-YA wanted to create a card innovative in both technology and style!
Trendy and fashion-forward, our Rose Gold Metal Business Cards are a sure fire way to make an impression with their unique hue. Paired with a bold, black, stylized QR code, these cards are ready to turn heads. Although there are less production processes involved with their design, these cards are anything but simple.
Speak volumes with hardly any words at all with your own custom metal business cards, and QR codes!
55. Stoked for Steel
Wanting people to be totally stoked about your fitness program? Get the normies excited with a set of rad Stainless Steel Metal Business Cards!
It's very clear that Stoked Athletics is ready to get their client's excited about fitness, and what better way than with a custom metal VIP card? Going for a unique angle, these cards are turned on their side for a fresh vertical layout. A popular and effective combination, our natural stainless steel and black spot color create a card that is impressive and convincing. Custom cut through areas hugs the edges of the card for a truly bitchin' effect that will blow the socks off any recipient.
Don't buy into a set of bogus paper cards – Go metal and make some gnarly sales!
54. A Black Belt In Business
When you're a true martial arts master, you need a tough set of cards that are nothing to mess with! With our mission at hand, we were ready to design these cutting edge Black Metal Cards for Lou Casamassa's Red Dragon Karate.
An ever-popular choice, our matte black metal finish perfectly tows the line of tough, sleek, and professional. Leaving spot color by the wayside, these cards were created using only various etching techniques for an impressive display of texture. Using chemical etching at different exposure rates we cut a custom chain link design into the cards at different depths to create both cut through and surface etched variances. Using our silver laser etching we removed the top layer of finish to reveal the raw stainless steel underneath to expose their beautifully intricate logo.
The cool tones and structured cutouts in this card truly put the art in martial arts!
53. Get CUT, With Custom Cutouts
Steve Olson owner of Archetype Strength gym's mission is to provide a high quality and badass gym to train at, and commissioned us to design cards to match! Our Stainless Steel cards deliver that hard hitting, industrial feel, ideal to represent pumping iron.
A neon green spot color bounces off the finish and gives an edge to key elements of the card. We cut through a custom shattered triangle pattern to complement the triangle in the logo and add a sturdy design element.
We are ready to sign up and break a sweat with cards as hardcore as these!
52. Total Knock Out
For Larry Jones of Bare Knuckle Fighting the rugged nature of the sport required a custom Square metal business card worthy of standing up to its name. Our popular Black Metal finish is the perfect canvas for those looking to deliver a message both tough and professional.
Although slightly smaller in size, the uniquely square shape of these cards sets them apart from a typical rectangle and earns them a double take. Reminiscent of the fighting ring, a custom chain link fence cutout pattern is used for detailing across the top of the card. Keeping it bold yet striking, a stark white spot color is used for the content, creating the most contrast for an achromatic look.
Typical paper business cards don't stand a fighting chance against this knockout design!
51. Gripping Design
With detailed cut through areas we can achieve with our custom cards, we are crushing the metal business card game! We want you to WOW your clients with a hard-hitting first impression, which is exactly why Crunch Fitness teamed up with us.
Our natural Stainless Steel finish paired with the custom design chain link cutout pattern, work together to create an immersive experience. Paired with vibrant red-orange spot colors, this card truly GRABS your attention! With the logo large and in charge on one side, that leaves plenty of room on the back for all the important contact information.
50. Stainless STEAL the Show – Elegant Metal Business Card
Our popular Stainless Steel Business Cards are elegant and modern, offering a blank canvas for your vision.
Stainless Steel Business Cards are the perfect base for showcasing your logo, or taking advantage of striking cutouts! A cool Blue Spot Color makes this Real Estate Boutique POP against the striking steel background.
Using our chemical etching process, a carefully crafted cutout pattern is applied, and draws the eye inward for maximum effect.
This Metal Business Card is simple yet remarkable.
---
"I am naturally an introvert and what I love about the metal cards is that they create a unique opening for conversation to take place. I also find that people don't throw them away compared with paper cards." – David S.
"Being in my industry for 20 years and 9 of those in upper management. i deal with a lot of vendors day in and day out. I get tons of business cards, and to be honest i just chuck them ( throw away). Then one day my [redacted] rep came in. I had not seen him in a while and so he went went to give me his business card and it was metal! anyway the conversation changed from routine to less stressful sales tactic, I didn't see him as trying to sell me. It put him on a whole different level in a second like that in my mind.. Sh*t, even if i didn't like him, i still would not throw that card away, you just don't, you are just accustom to keep something different and unique. I even went out of my way to show my colleagues."
– Steven W.
---
49. Capturing All the Shots – Custom Photographer Business Cards
Kitwood Photography purchased Copper Finish Cards with two colors to keep with their current branding. They utilized custom cutouts, spot colors, and surface etching for the contact information. Etching without color yields a subtler look that many clients prefer. This Copper Finish Metal Business Card is STUNNING in hand! The cutouts combined with their colorful logo on the Copper Card tie the entire design together.
48. Kraken Rum
We produced this beautiful Black Metal Membership Card for Kraken Rum. As you can see it matches the Kraken Rum brand perfectly.
The fine details were chemically etched prior to coating the card in matte black. This process yields a unique debossed look that draws the eye in. The rest of the content was laser etched in silver.
47. A Vision of Luxury Metal Design
With a title like "Visionary Accountant and Author," you know you need cards that make an impression (and make other authors JEALOUS). So, we set out to work with Tatiana to create a one-of-a-kind card that wins a spot on our Top Business Cards for Women list!
For this White Metal Business Card, the first step was finding a pattern and color scheme that worked for Tatiana Tsoir. The rest of the design followed for a simple yet memorable design. The use of colors, patterns and cutouts and how they are combined to create a luxury metal card that flows perfectly. Not only is there breathing room for all of the information, but there is also a large amount of room for the logo on the front of the card.
46. ArcFABULOUS – Metal Specialist Card
ARCFAB Metal Specialists were on the hunt for a custom metal card that truly represented them. Creating the perfect dark canvas to help push the light effect of their welding graphic, the Matte Black Finish steps in as the perfect choice.
A custom cutout of the American flag provides movement through the card, and solidifies their status of an American made company. These cards are guaranteed to make an instant impression on those lucky enough to receive one!
45. Triangulate Success
Opting for our sought-after Black Metal Cards, Unique McKinney was looking to impress their clients with cards both intriguing and modern. Seeking to draw an audience and create interest in the city of McKinney, TX, a QR code is the perfect portal of information. Created to link directly to their website, the QR code allows all the information to be accessible by a quick scan, and leaves room on the card for a cleaner and more aesthetic design.
To create a unique black on black background pattern, we combined our matte black cards with a black semi-gloss spot color for contrasting finishes that reveal in different lighting. Our silver laser etching creates a crisp QR code and URL for high legibility, with an accent of spot color to match their signature Unique blue.
Open doorways to success with your own QR code!
44. They ROSE Above The Competition
Integrating bold and feminine, Prodigy Realty opted for a Rose Gold finish for their cards, perfectly complimenting their signature phoenix logo. Growing in popularity our Rose Gold Metal Business Cards are a unique and trendy option for those looking to stand out.
Not to take away from the stunning tones of the Rose Gold finish, we focused on using surface etching for the intricate detailed pattern, and phoenix striking logo. A neutral black spot color is used to bring attention to the company title, keeping the design balanced. For an extra special touch, we used a custom mesh cut through pattern towards the edge of the card.
With our constantly expanding selection of finishes, we want to make sure you have ALL of the options at your disposal to create a card that is perfect for your branding, and on the cusp of the latest trends.
43. Cards SHAKEN to Perfection
Good drinks are made from quality ingredients and a bold idea. Coincidentally, you need that same combination when making one-of-a-kind unique business cards as well! Black Metal Business Cards are always a fan favorite, for their luxurious look and feel, and this Urban Daiquiris card is no exception.
Vibrant Pantone Colors, Subtle Surface Etching you can feel, and a custom cutout in the URBAN DAIQUIRIS text, all make this card stand out to us. We know this is a card that VIP's will go wild for and get excited to show off (Hello FREE Marketing 😉)!
42. Unique Cards – Quality Sales
The cards for carpentry experts Walters Fine Carpentry truly serve their brand promises. Choosing Metal Business Cards showcases a dedication to quality products, and is a unique and memorable token.
Our Copper Finish brushed effect and rustic flair make it a popular choice for the construction industry. The cool teal spot color bounces off the warmth of the Copper Finish Metal Business Card creating a beautiful contrast while keeping a more understated palette. To add another element of intrigue to the cards, we used a honeycomb mesh cutout pattern to contour the rounded arch of the logo. The custom qualities in this card will have clients yearning to create a custom home for themselves!
41. Be True to YOU – Cannabis Business Card Grinder
This clean Stainless Steel Metal Business Card was designed for WeedMaps, the leading cannabis platform for cannabis consumers and businesses. A trailblazer in the cannabis industry with a mission to provide inclusivity, they chose a Full Color Printing process to represent the multicolored flags of the LGBTQ+ community.
A custom grinder pattern was implemented to help shape the card into a useful tool, carefully crafted around their core audience – the cannabis community.
We love working with clients to create designs that really illustrate their core values, using a multitude of customization options!
40. Sophisticated and Helpful – Business Cards for Lawyers
This Stainless Steel Metal Bottle Opener was made for The Law Office of Kyle A. Patrick. Kyle's logo was screen printed in a vibrant green as well as laser etched in silver around the top of the bottle opener. The content was also silver laser etched.
Per the client's request, we included a hole on the bottom right side of the card to allow for a key chain ring to be added! As a reminder, any custom cut outs are FREE with our standard Metal Bottle Opener Business Cards!
39. Focus Here – Custom Photographer Business Cards
We love Ryan Gonzalez's card for several reasons. This is a brushed, Stainless Steel Card with custom cut outs and black spot color. Ryan's Metal Business Card has a solid, balanced design with the shutter cut through the middle and his signature logo across the front of the card. His contact information can be found on the back on the card, which allows for his logo on the front to really STAND OUT.
38. The SUPERior Choice in Unique Business Cards
Superior Solutions to the rescue! And just who are they going to rescue? NEW CLIENTS, of course!
Playing it safe has never gotten anyone far – superheroes included. And when it comes to business, why not have a bold image to match your underlying WHY.
These White Metal Business Cards feature the 'S' from…well, you know. And the combination of red and blue spot color screen printing really makes these cards pop, especially up against the cut-through pattern in the large logo at right.
WHY WE LOVE IT: Let's face it, superheroes are AWESOME, and what is better than a custom Business Card that has the look and feel of your favorite superhero.
37. Bad to the Bone
This Matte Black Business Card created for Outlaw Mobile Welding certainly deserves a double take!
Not wanting to take away from their awesomely hardcore logo, we used our crisp silver laser etching to reveal the raw stainless steel underneath, highlighting, and enhancing the details in the image. The addition of the orange spot color brings fire to the cards, and cleverly matches the orange of Outlaw welding generators.
36. VIP Access to Major Sales – Bold Real Estate Business Card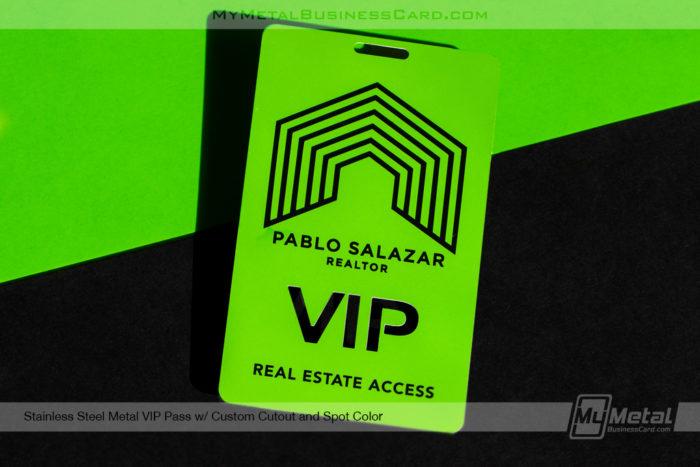 Completely eye-catching, our neon Spot Colors are sure to draw a crowd!
Pablo knew that to catch the eyes of future clients, he would need us to pull out all the stops in regards to design. Although our standard business cards are 3.5" x 2", these were upgraded to our VIP pass size and format, leaving regular business cards in its shadow.
Fully screen printing the surface of a stainless steel VIP Pass with a neon green Spot Color delivers the message loud and clear.
Bold, loud, and ready to make a statement, these passes are sure to get the party started!
35. Cutting Edge
J.C. Platt Builders wanted a sleek, custom card with extra accessibility!
Our Gunmetal Business Cards have the perfect professional yet cutting-edge look, merging the corporate and rugged elements of a construction business. Using a surface etching technique to apply the imagery and logos provides a monochromatic feel and allows for extra detail without distraction. Using a silver laser etching technique to apply the QR code lets the raw stainless steel show through, creating an almost highlight effect. The contrast allows the code to be scanned easier, while also drawing attention.
An understated color palette with contrasting POP will keep focus right where you need it!
34. Signature Look
Thomas Vogel has a celebrity worthy signature in need an ideal canvas. Our classically vintage yet timeless Copper Finish Metal Business Cards add a unique flair to any set of cards, developing its sense of style while complimenting the detail work.
Using custom cutouts for his signature as the focus of the cards, the contact information was applied with a classic black spot color for an understated and sophisticated touch. Taking full advantage of custom cutouts included with our cards, a mesh border was added to the top and bottom, drawing the eyes across the body of the card.
Once picked up, these cards will never be put down.
33. Cracking Open Opportunity
J.P. Crivello of Crivello Bros. Construction knows the value of strong client relations and wanted to extend that sentiment through a card that cultivates shared communication.
The matte black metal finish creates a sleek base for the blue and white spot colors to speak loud and clear. We created a specialized shape for the cards to match the sloped logo, and mirror the silhouette of a roof. As an added bonus and tribute to the construction theme, we applied a chain link fence pattern to the background in a semi-gloss black spot color for a subtle pattern and hint of design. Create connections by creating experiences with a set of custom Metal Bottle Opener Cards!
32. Sign Me Up
Unveiling a new Pint Pass program, Beehive Basin Brewery wanted custom cards that could be easily personalized and stand up to constant handling. Durable and impressive, our Stainless Steel Metal Cards were sure to deliver.
Adding a touch of flair to a standard Stainless Steel card, a Brushed Finish was applied to add not only a visual element to the card but a practical as well. As cool as the Brushed Finish appears, it also works double to help prevent the appearance of fingerprints and scratches – ideal for frequent use cards! Since Beehive Basin would be giving out cards as they received new members, we added a white signature panel for quick and easy personalization. A small cutout in the corner of the card also makes it super easy to transfer from your wallet to a keychain!
Launching a custom membership program has never been so effortless!
31. Living the High Life – Cannabis Business Card
We created this luxury Cannabis Brass Finish Metal Business Card for The Green Consultation Group knowing that they were looking for an edge to beat out the competition.
Upgrading the Brass with our specialized shiny finish, the high shine of these cards conjures up imagery of gold bars and helps deliver an instant impression of affluence. We also used an intricate pattern applied with chemical etching, prior to applying the Brass finish, to create the subtle and beautiful inlay of information throughout the card.
Shiny Brass Finish Cards are STRIKING! This is the type of card that will blow competition out of the water.
30. A Shot Worth Taking – Custom Photographer Business Cards
MadiMarie opted for a Stainless Steel Card with a custom shape and cut outs. Madi chose a camera-shaped Metal Business Card to immediately distinguish herself. She kept it simple with just the essentials: her name, phone number and website. We like this card because it's unique and memorable!
29. Flip This House – Custom Square Business Card
Custom shapes are no problem for My Metal Business Card!
This client wanted their realtor business card to STAND OUT with a custom shape and bright colors. We PMS color matched the green and orange of Flipping NJ's company's logo to ensure branding consistency. The Square Metal Business Card was 'flipped' on its side as a diamond shape.
Their card is both eye-catching and unique.
28. A Doorway To Opportunity with NFC Metal Business Cards for Real Estate
Being in touch with the latest tech trends is key when implementing new marketing strategies. Lindsay Vogt wanted to maximize her networking potential by combining the best of both physical and digital media worlds with a Metal NFC Business Card!
With our NFC technology, we can encode the chips with any URL of your choice, which can then be scanned to any smartphone it is tapped to. Instant spread of information! Using a black NFC sticker we seamlessly blended the chip into the design motif of the Matte Black Metal Business Card. Matching white spot color elements help to create an elegant and cohesive look. A small splash of metallic gold spot color is the cherry on top of this card for a touch of flair.
With so many options, we are here to help you communicate successfully through all avenues of design, and mediums.
27. Fit For A Queen
We produced this brushed, Stainless Steel card for Carmen of CC Fitness. Carmen's Metal Business Card is unique for a number of reasons. This first being she added brushed finish.
The best way to add more character to our standard Stainless Steel cards is to go with brushed finish. This gives the card another dimension of sophistication. Next, Carmen utilized cutouts for the word 'Fitness' as well as the swirly border at the top and bottom of her card. She also added her signature and title in etching which is subtle yet eye-catching.
We love this card because it looks both feminine and strong!
26. WELD Done! Full Color Printed Metal Business Card
When you can't decide on one color, why not have them all with Full Color Printing? We love these rugged yet colorful Black Metal Business Cards for MK Mechanical Contractors!
Created with a fully custom shape, this unique design enhances the colorful border pattern representing the multicolored reflection and pattern of welding beads. Integrating elements of your work as a design element is one of the many ways we can create a truly one-of-a-kind card.
25. You Better BeLEAF it!– Cannabis Business Card
Although traditional business cards are rectangular, why not have a little fun with our custom shape?
Grow Monkey wanted to leave little to the imagination with what they are all about, which is why they decided to go all in with a vibrant pot leaf as the base of their Stainless Steel Cards. Included with all our cards at NO ADDITIONAL COST, using a custom shape adds a whole new layer to your experience, securing an immediate double take.
Being in a highly competitive industry, it is imperative to come armed with tools to set you apart from the rest. That is why we encourage you to take advantage of all the customization abilities we have to offer and let us create something that represents YOU!
24. Saving The Day
Having a sales emergency? Metal Business Cards are here to save the day.
Heroic Roofing wanted a card that displayed pride in their country, without taking it over the top. We kept their logo in full color with a combination of spot colors and silver laser etching for the detail work. When working with bold spot colors like red for your logo, our Matte Black Metal Business Cards create the ideal canvas. A surface etching technique was used for the American Flag to create a slight shadow effect in the body of the cards. Using our signature custom cutout patterns, a brick cutout corner completes these cards and topping of the roofing element to the design. Be a hero for your company by providing custom Metal Business Cards!
23. Innovation at its Best(est)
This one is tempting… To hold and look at, time-and-time again.
We've seen it all – cards with simple contact text to cards like this. The Tempest card utilizes a unique shape, lots of cut-through areas, an interesting surface-etching area and finishes it all with the subtle corporate colors for the brand on a Stainless Steel Card.
Unlike paper cards, this card begs and deserves to be looked at and shared.
This card packs a WOW factor. Everywhere you look, there is more detail to admire… the cut-out areas, the jagged surface-etched areas, the feeling of forward-motion with the italicized font, and more. The amount of detail in the design of this card is complimented only by our precision made-to-order manufacturing that produces the world's finest metal business cards.
22. A Card That Pops
Simone Kliass is a professional voiceover actor who wanted her Metal Business Card to make a statement about her talent.
Our pricing includes any custom shape within business card dimensions, so we designed her Black Metal Business Card in the shape of a pop filter. Simone's cards have cut outs in the microphone and stars as well as green and white screen printed spot color. We are always striving to create custom Metal Business Cards that are unique and tailor-made to fit each client's style.
Anyone who receives Simone's Black Metal Business Card will see that she takes pride in how she markets herself – this card on our top business cards for women is a true stunner!
21. In the Lap of Luxury
Bridgeman Luxury Real Estate knew they wanted to convey a sense of refinement and we delivered with these Matte Brass Finish Business Cards with custom textured etching!
As one of our top performers, our Brass Finish Cards combine beautifully with a classic black Spot Color allowing peaks of the gilded finish from beneath. Creating a custom texture adds not only a stylistic element, but a tactile one as well, further drawing clients into the experience.
These cards will serve the luxury title proud!
20. Putting in WORK – JP's Metal Works Business Card
Working in an industrial field, JP's Metal Works commissioned us to design a card to embody the elements of everyday metalworking. Using multiple custom textures, our design team truly exceeded expectations!
Drawing inspiration straight from metal fabrication materials, we used different variations of chemical etching to create the custom shape, mesh border design, and diamond treat texture. Keeping with a cool, modern look, we used gray spot color to add a slight contrast to the card without creating distraction. The unified theme in the cutout and etched patterns are combined to create a Black Metal Business Card that solidifies the overall theme.
19. Farm-To-Table – Cannabis Business Card
BS Farms LLC was looking for one-of-a-kind business cards, so they opted for our genuine Carbon Fiber Cards. Made of real carbon fiber, these cards are popular because of the carbon fiber pattern and light weight. BS Farms' two-color logo highlights nicely on the carbon fiber background.
Whether you're looking for Metal or something different like Carbon Fiber, Plastic or Wood, we've got you covered.
18. Soar Above the Competition – Custom Photographer Business Cards
Eagle Photography went with a Copper Finish card to channel the rustic, earthy side of their brand. The Eagle in their logo was CUT THROUGH the card as well as the holes on the top and bottom borders. For the content, they opted for surface etching only which accentuates the natural look of the Copper Finish Card –both distinctive and eye catching!
17. Scan with a Plan
Displaying your brand colors is important for consistency, which is why Alignment Healthcare chose a crisp White Metal Card to feature their company hues. We can PMS color match to replicate your company colors and logos and keep your branding consistent.
Using our screen-printed colors, we applied the multi-colored logo to the top corner of the card creating visual tension and unique placement. We also used a black spot color to list out all the necessary information, which is enhanced with the addition of a QR code. Having the information easy to read is convenient, but to make it even more efficient one can scan the QR code to be taken directly to the company website in seconds!
16. Cutting Edge Welding Business Cards
Kyle from Valley Wide Welding LLC opted for our traditional Stainless Steel Business Card. He utilized a shattered cutout pattern to carve out his logo which is applied with black spot color.
Making your logo the focus of your Metal Business Card is the best way to command attention and stand out! Kyle is sure to turn some heads in the welding world with this one-of-a-kind Metal Business Card.
15. What Glitters Is Gold
Lynette opted for our Brass Finish Card to accentuate her Bitcoin logo. This finish is the closest we have to a real gold color, which makes it the perfect choice for a Finance Mentor.
The horizontal lines are completely cut through which complements the details of the Bitcoin in the center of the card. Lynette's name is prominently contrasted in the black spot color at the top. Brass Finish yields a look that says, "Here I am!" which is exactly why it stands out so well.
14. Adam Thorne, Locksmith
Our Square Metal Business Cards pack the same big punch as their larger siblings, but in a neat compact space.
To add an extra wow to Adam's cards, we created a typographical surface-etched map to complement the compass design of his logo.
13. Organic Growth
Jim Grannan of Hawaii Sea Spirits required a card that seamlessly blended the innovative elements of their craft and the organic nature of their practices. Neutral and cutting edge, our Matte Black Metal Business Cards were an easy choice.
To keep an organic feel, we used silver laser etching for all the information and decorative band, revealing the raw stainless steel underneath rather than using pigment. Using a surface etching technique prior to applying our black finish, we carved out a floral filigree pattern on one side and topographic map on the opposite, reminiscent of Hawaiian nature.
Channeling natural elements, we are sure these cards will also channel natural growth for their business!
12. Setting The Bar High – Cannabis Business Card Grinder
Senior Attorney, Aaron Pelley of Cultiva Law is another long-time client of My Metal Business Card. Aaron specializes in Cannabis & Marijuana Law as well as Business Law and uses his custom Metal Business Cards to set himself apart in the Cannabis industry.
Aaron's cards are Copper Finish with custom hole cutouts and a Full Color Printed image on the front. The marijuana law inspired image matches our Copper Finish perfectly creating a visual flow that is pleasing to the eye. His design is definitely one-of-a-kind!
11. Fierce Design – Business Cards for Lawyers
Imperium Law Group wanted a sleek, modern look for their Black Metal Business Cards. Their company name is laser etched in silver with gold spot color accents. The logo is intrinsically cut through the left side of the card.
This matte Black Metal Card has minimal content, but it is without-a-doubt attention-grabbing!
10. A DIAMOND in the Rough
Silver laser etching brings this custom diamond pattern to life!
Complementing the bold red logo for ERK Realty, the silver laser etched diamonds add a whole new element of design and attention to these Black Metal cards. Combining our various customization options allows you to maximize the visual impact of your cards and stand out from the rest.
This Metal Business Card makes a statement without saying a word.
9. Rock & Brews
We produced this custom Black Metal Bottle Opener for the famous Rock & Brews Family Restaurant. Rock & Brews is a local restaurant that serves craft beer and fresh comfort food, founded by Gene Simmons, Paul Stanley, Dell Furano, Dave Furano, and Michael Zislis.
These Black Metal Bottle Openers had the Rock & Brews logo as well as each personalized name and title laser etched in silver. For a slick, usable keepsake, we recommend our customized Bottle Opener Cards for Breweries!
8. Construct Conversation
For the Mullis Construction Group cards, they decided a White Metal Business Card enhanced with a QR code would be the ideal jumping off point for a card that covers all the bases.
Maximizing functionality, we used a black spot color to apply the traditional business information, the QR code, AND a ruler to the cards! The addition of an extra spot color in their signature yellow unifies their branding. We created a custom chain link fence cutout pattern with rounded corners to border the card and match the construction elements of their business.
From minimalist to maximalist a QR code serves every style!
7. Command Attention
A great way to add interest to a card without the use of multiple colors is through texture. Wanting to stick to a sleek and more neutral color palette, Comandini Real Estate Advisory chose our popular Matte Black Metal Business Cards with various etching options.
Using our surface etching technique, we etched a custom Comandini logo pattern into the background of the card prior to coating it in our Black Finish. This creates a slight debossed effect adding a textural experience and slight visual interest without skewing the focal point of the logo. We also used our silver laser etching to reveal the raw Stainless Steel underneath, and to apply the decorative border and company information.
6. Fabricate Sales – Metal Fabrication Business Card
When your work revolves around metal fabrication, it only makes sense to impress by handing out a custom Black Metal Business Card!
Unique to metal cards, we recommend taking advantage of custom cut-through areas like Jacob Seter of Seter Fabrication. Using a mesh pattern to maximize cutout areas for a statement logo, surface etching for the mechanical pattern, and spot colors, this card really takes advantage of multiple awesome customization options!
With so many custom processes to choose from included in our standard pricing, we can create a card for you that is unlike ANYTHING seen before.
5. Carpenter Square
When is a Stainless Steel Business Card not a business card? When it's a carpenter's square of course!
Just one of the many custom designs we've got up our sleeves at My Metal Business Cards for construction pros like you!
4. Budweiser
When Budweiser was searching for the BEST Metal Business Cards for Breweries in the industry, they came to My Metal Business Card.
We designed these custom-shaped Stainless Steel Cards with the company's famous red and white logo featured on the front. With one side accentuating their logo, the back of the cards featured our client's contact information, which was chemically etched and filled with screen printed color.
3. Smooth Blend – Cannabis Business Card
Big Mike, Founder and CEO of 'BigMike's Blends,' wanted a distinctive Metal Cannabis Business Card that matched his unique style. BigMike sells custom blended pre-rolls, each of which have their own name and brand, featuring the same logo used for Mike's Black Metal Card design.
This card showcases almost all of our production capabilities including multiple screen printed colors, a surface-etched leaf on the back of the card as well as a circular pattern in black spot color. The custom card shape was NO ADDITIONAL COST because it's within standard business card dimensions!
This is a great example of customizing your Metal Business Cards to fit YOU and your brand!
2. Put it on my DAB – Cannabis Business Card Dab Tool
Our Stainless Steel grinder cards are an amazing tool, but WOX Extracts knew that they needed a different option dealing with resin instead of those leafy greens.
Reminiscent of our viral lock pick cards, WOX saw these custom pieces in a different light and knew they could take on a new role as dab tools! Using our custom cutout capabilities, we can create pieces that can be punched out from the base of the card, and in this case be used for their Live Resin.
Using surface etching to create visual interest and add to contact information, the true WOW factor of these cards lies in their ability to create an INSTANT and long-lasting impression on potential customers.
1. Raising Spirits
With the fine detailing we can achieve with our custom cards, it can feel like you're handing out a work of art rather than a card. That's the kind of effect you want when creating a custom membership program for your elite investors, which is exactly why Dark Door Spirits teamed up with us!
Custom metal membership cards don't always require as much information on them as a business card, which leaves more room to play. The combination of a Copper Finish Metal Card with an entire layout of custom cut through areas is more than deserving of a double take. Using imagery from their logo and matching floral patterns, these cards speak for themselves. To complete the overall look, the membership year and company name are delicately surface etched into the cards for an added detail.
With cards this awesome, we're ready to become members ourselves!
Regardless of what industry you work in, metal business cards are the perfect tool to grow your business!
STAND OUT in extremely competitive markets with immediate legitimacy
Make a lasting impression on potential clients
Get more referrals by showcasing your expertise and professionalism
Our team at My Metal Business Card are the experts at designing and creating custom Metal Business Cards for all industries and walks of life – we have worked with countless companies across the country and would love to work with YOU!
—-
READY TO ORDER BUSINESS CARDS FOR YOUR BUSINESS?
"A Metal Business Card immediately engages a response. There is a level of attention these cards command." – Brian A.
---
Ready to have YOUR own impressive metal cards that will wow your prospects and customers?
If you can dream it, chances are we can design and make it.
Just contact us to your artwork ideas.
But what if you don't have a grand idea in mind? Maybe you just don't have the time and bandwith to think how to make your cards more creative, and don't have an expert designer to reach out to?
No problem!
With our expert design and manufacturing team, we've got you covered.
Leave it to our seasoned team of senior designers – they will work with you to create a unique and unforgettable business card that will tie in seamlessly with your company's brand. (You already saw above what they are capable of!)
You will receive a custom design within one (1) business day from your order.
You can safely place an order today to get started – your cards will not go into production until you are 100% satisfied with the design!
At My Metal Business Card, we are constantly researching the marketing industry's most popular and effective products for our clients. Unlike other companies, we stand by the quality of our products down to the smallest details.
PS. Have Questions?
We're here to help you! Our team will ensure that every aspect of your experience is above expectations. If you have any questions, please contact us at sales@mymetalbusinesscard.com or give us a call at 714.213.8155. A friendly associate from our team is ready to assist you!