In the vast expanse of the roofing industry, it's not just about the roofs you lay or the leaks you fix – it's about how you introduce yourself. First impressions aren't crafted on rooftops, but in the palm of your hand with a standout Metal Business Card. Ever thought of standing out in a crowd of roofers?
Explore our collection of Top Roofing Metal Business Cards, tailored for the roofing enthusiast with a penchant for flair. These cards are more than just slivers of metal; they're crafted conversations starters, designed to announce your roofing prowess with an undeniable sophistication.
Not only are they a testament to durability (much like your roofing projects), but they also embody a blend of professionalism and chic design.
Join the ranks of those in the know and pave the way for memorable business interactions. After all, why just be a roofer when you can be the roofer everyone remembers?
10. Man of Steel – Stainless Steel Business Card for Roofing
Kyle Davis, Owner of Super Roofman swooped into our midst on a mission to armor his roofing company with the mightiest business cards in the industry. Enter our Stainless Steel Business Cards, forged with precision fit for a superhero like him!
The custom-cut mesh at the top mimics the pattern of roofing tiles, making the details of his card soar above the rest. This pattern along with the half cutout logo catapults the card's appeal into the stratosphere.
To really enhance certain details, we infused the card with an electric orange spot color, making the word Super leap off the card in a burst of vibrancy. The powerful contrast makes the logo the true hero of the card, ready to save the day!
Take flight above your rivals and shine like a beacon in the night with our Stainless Steel Business Cards, tailor-made for super general contractors like Kyle Davis!
---
⭐⭐⭐⭐⭐
"We work in construction and our cards used to get sweaty and fall apart, the metal cards are not affected by sweat. Builders and Architects are always impressed with our cards." – Colter M.
---
9. Sky's the Limit – Black Metal Business Card for Roofing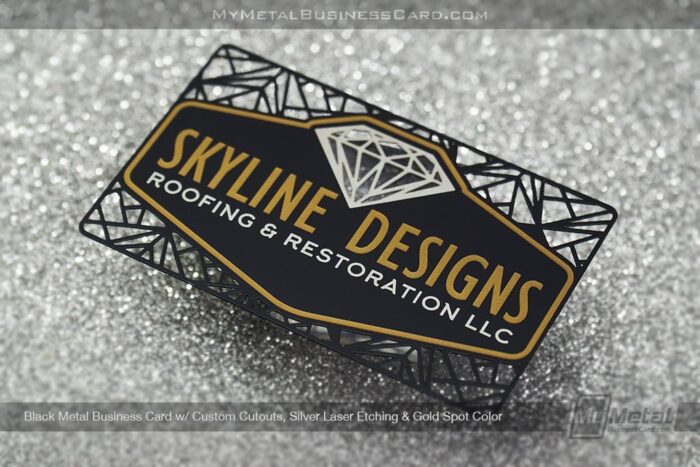 Working with Skyline Designs over the years we've designed several cards for them, but this stunning Black Metal Business Card stands as the crown jewel.
The silver laser-etched diamond logo dazzles just like a true jewel, standing out against the sleek black metal. Complementing this elegance is the metallic gold spot color, a regal touch that matches the same level of luxury as the matte black finish.
To enhance the angular cutouts within the diamond, we created a special cutout pattern with a mosaic like effect to border the top and bottom of the card.
Shine bright like a diamond while handing out your own custom Metal Business Cards!
8. Reach New Heights – Stainless Steel Metal Business Card for Roofing
Making you stand out is our specialty, and these Stainless Steel Business Cards are taking Terrazas Roofing to new heights!
Focusing on exceptional quality, they were instantly drawn to our classic Stainless Steel Business Cards. Made from raw 0.5mm (about 0.02 in) stainless steel, these cards are a true testament to quality craftsmanship that is sure to shine through as a reflection of their own business.
Using cut through areas we took their roofing logo and etched it right through the card! As an added detail, we used a pattern inspired by roofing tile as a unique border along the bottom.
Letting the stainless steel speak for itself, a neutral black spot color spells out the business name while surface etching was used for the additional text.
The pROOF is in the pudding! Experience the magic today with your own set of Stainless Steel Business Cards.
7. Believe the Hype! – Rose Gold Metal Business Card for Roofing
Hype Roofing was looking for a truly unique business card to turn some heads and we rose to the occasion with these Rose Gold Metal Business Cards!
Truly eye catching and at the forefront of current trends, our rose gold finish is a daring yet smart choice. To not distract from the color of the card itself, we used a clean black spot color for the logo and business information.
Using chemical etching we cut out a mirrored image of their logo as an impressive detail. Adding an extra touch of detail work we cut a staggered line pattern in opposing corners drawing focus across the entire card.
Hype up your potential clients by handing them an amazing Rose Gold Metal Business Card!
6. Window To Success – Stainless Steel Metal Business Card for Roofing
Creative Roofing Solutions offers unique metal roofing, so there was no doubt that Stainless Steel Metal Business Cards were a match made in heaven!
Upgrading to two spot colors, their business name was printed in bold black, while the roof image and reversed out slogan were printed in their signature green.
Small cut-out areas were used to amplify details like the windows in the logo, and a fine mesh pattern in the upper corners. Surface etching was used to etch a shingle pattern into the stainless steel for a subtle textural element.
Creative Roofing Solutions touts that metal roofing is a "wise investment" due to its ability to stand the test of time. The same can be said about a Metal Business Card! Unlike paper cards, these will serve you for years to come with a permanent place in your client's wallet and an instant and unforgettable impression in their minds.
5. Stone and Steel – White Metal Business Card for Roofing
Built from the ground up, the family owned and operated Stonewater Roofing needed a card built with the same passion and commitment as their business. Layer by layer we created a set of pristine White Metal Business Cards to help build them up!
Smooth and bright, our White Metal finish is available in both glossy and matte, acting as a blank slate for your perfect vision. Keeping these cards straight to the point we screen-printed their logo and business name large and crisp in black and blue spot colors.
Included with our fully custom cards, we cut out a brick pattern as a top and bottom border, perfect for their roofing business. We also cut out the top area of their logo, which is usually printed white, to add an extra special wow factor.
Ready for a custom set of Metal Business Cards? Water you waiting for?
4. Savage Not Average – Black Metal Business Card for Roofing
Striving to be anything but average, Savage Roofing Inc. chose a matte Black Metal Business Card to fight their way through the competition!
Designed to complement the logo and incorporate roofing imagery, we created a custom brick cutout pattern. The cutout pattern hugs both sides of the card while leaving ample room on the backside for additional information.
The rugged design features the bold Savage Roofing logo, in standout gray, white and red spot colors to match their branding.
Just as legends never die, these cards will live on in the memory of all who behold them!
3. Rock You Like a Hurricane – Stainless Steel Business Cards for Roofing
With a name like HurricaneRoofer.com it was our mission to create custom Metal Business Cards that will blow you away!
Cool and grey like a stormy sky, our Stainless Steel Metal Business Cards were an easy decision to make as a jumping off point. Two cool blue spot colors were used to match their logo and to complement the cool tone of the steel.
We angled our brick pattern at a diagonal for a creative new take that blends roofing style cutouts with the movement pattern of falling rain. We also used surface etching for the hurricane cyclone, making it standout in a lighter silver tone.
Redefine networking with Stainless Steel Metal Business Cards – weathering any storm of impressions with unwavering professionalism!
2. Zero to Hero – Black Metal Business Card for Roofing
Having a sales emergency? Metal Business Cards are here to save the day.
Heroic Roofing wanted a card that displayed pride in their country, without taking it over the top. We kept their logo in full color with a combination of spot colors and silver laser etching for the detail work. When working with bold spot colors like red for your logo, our Matte Black Metal Business Cards create the ideal canvas.
A surface etching technique was used for the American Flag to create a slight shadow effect in the body of the cards. Using our signature custom cutout patterns, a brick cutout corner completes these cards and topping of the roofing element to the design.
Be a hero for your company by providing custom Metal Business Cards!
1. Forging Legends – Black Metal and Brass Finish Metal Business Card for Roofing
To live on as a legend one needs to exude greatness and leave a lasting impression! Not one to get left in the dust, Legends Roofing commissioned not one, but TWO different types of custom Metal Business Cards. Talk about a power move!
Keeping the cards cohesive, we reversed out the color schemes starting with a Brass Finish card and a black spot color and complementing those with a Brushed Gunmetal card and metallic gold spot color.
Using the same surface etching technique, we etched their roofing logo into the surface of the cards to create a custom pattern. Using the same processes across our different finishes can result in several visually striking results.
Keeping the branding on point, we screen printed their logo in the dead center of the cards in a contrasting spot color.
Write your name in the history books and double down on custom Metal Business Cards!
---
Elevate your brand above the rest! Join the shingle-best roofers who have nailed their first impressions by upgrading to Metal Business Cards.
At My Metal Business Card, we are dedicated to ensuring your cards leave a lasting first impression. We're not just covering bases; we're setting the standard. Don't be just another shingle in the bunch—raise the roof with our unparalleled quality. This is our seal(tight) guarantee:
We guarantee that your metal business cards will make you stand out or we will give you your money back!
When you are ready to get started with your own business cards, contact us at Sales@mymetalbusinesscard.com, call us at 714.213.8155 or use the chat widget on this site, so we can help design unique Metal Business Cards perfect for you and your business!
⭐⭐⭐⭐⭐ 
"We needed a high quality card that has an element of design/engineering to it so prospects & current customers understand we're invested and serious about our work. A high quality card also stands out and may stay around longer than standard business cards." –Jason Taylor
 ⭐⭐⭐⭐⭐ 
"Why did I get my own metal business cards? I received a metal business card from one of my peers and it stood out. I get a lot of cards and I throw them away as soon as I put their info into my phone but his metal card I still have on my desk and I am more willing to pass it to the next peer." – Neil O.
⭐⭐⭐⭐⭐
"I have used metal cards before at my last company. People never lose these cards. They talk about them often and they leave a killer first impression." – Burton
⭐⭐⭐⭐⭐ 
"Your product is amazing, and I'm never going back to standard paper cards." – David R.