If steel is your business, a steel business card makes perfect sense! Here's our list of top welding business cards for welders and metal fabrication companies to make an instant impression with their clients.
10. Cutting Edge Welding Business Cards
Kyle from Valley Wide Welding LLC opted for our traditional Stainless Steel Business Card. He utilized a shattered cutout pattern to carve out his logo which is applied with black spot color.
Making your logo the main focus of your Metal Business Card is the best way to command attention and stand out! Kyle is sure to turn some heads in the welding world with this one-of-a-kind Metal Business Card.
9. Fabricate Sales – Metal Fabrication Business Card
When your work revolves around metal fabrication, it only makes sense to impress by handing out a custom black Metal Business Card!
Unique to metal cards, we recommend taking advantage of custom cut-through areas like Jacob Seter of Seter Fabrication. Using a mesh pattern to maximize cutout areas for a statement logo, surface etching for the mechanical pattern, and spot colors, this card really takes advantage of multiple awesome customization options!
With so many custom processes to choose from included in our standard pricing, we can create a card for you that is unlike ANYTHING seen before.
8. Hardware and Hard Sell – Metal NFC Business Card
With Clear Puddle Mobile Welding, it is clear that they are constantly on the move! One of our latest and greatest offerings for fast-paced contact swapping is our Metal NFC Cards. By choosing an NFC Card, the staff at Clear Puddle can easily scan their business information directly to their client's smart phone.
Wanting to highlight this awesome tech ability, we used silver laser etching to apply a circular logo around the chip itself! The clean application of silver laser etching and the fine cutout pattern work together to create a cohesive design, without detracting from the main event.
7. Fit for a KING
Excalibur Welding wanted Stainless Steel Cards that would match the branding of the business but with a little something extra to arouse interest. Adding a custom curved edge we designed with this uncommon shape, automatically created interest and an entirely different feel in-hand. Taking it a step further, the circular logo is perfectly contoured into the edge of the card as well for a sleek and cohesive look.
The triangle pattern at the top of the card is applied with a mix of both aqua spot color to match branding, and custom cut through areas creating an almost stained glass effect.
6. ArcFABULOUS – Metal Specialist Card
ARCFAB Metal Specialists were on the hunt for a custom metal card that truly represented them. Creating the perfect dark canvas to help push the light effect of their welding graphic, the Matte Black Finish steps in as the perfect choice. 
A custom cutout of the American flag provides movement through the card, and solidifies their status of an American made company. These cards are guaranteed to make an instant impression on those lucky enough to receive one!
5. Putting in WORK – JP's Metal Works Business Card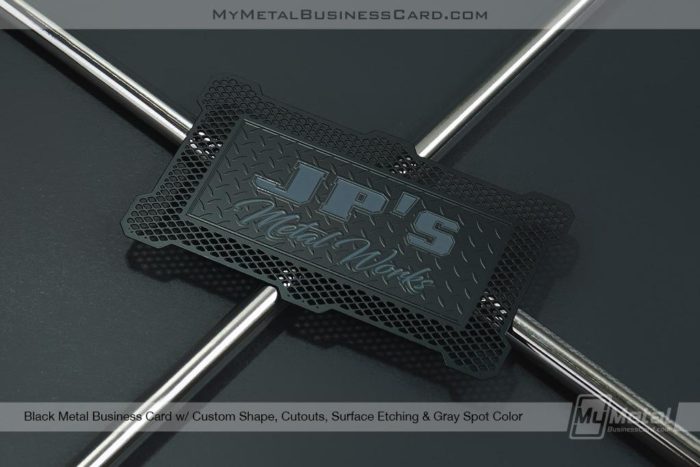 Working in an industrial field, JP's Metal Works commissioned us to design a card to embody the elements of everyday metalworking. Using multiple custom textures, our design team truly exceeded expectations!
Drawing inspiration straight from metal fabrication materials, we used different variations of chemical etching to create the custom shape, mesh border design, and diamond treat texture. Keeping with a cool, modern look, we used gray spot color to add a slight contrast to the card without creating distraction. The unified theme in the cutout and etched patterns are combined to create a Metal Business Card that solidifies the overall theme.
4. No Flux Given – Copper Finish Business Card for Welder
AMA Welding Solutions has a complex logo in need of a strong base to bounce off of. Our rustic yet modern Copper Finish adds the perfect edge to any of our cards, elevating its sense of style without compromising the overall design.
Using custom cutouts for the logo and name as the main focus of the cards, the contact information was then applied with a classic black spot color for a classic finishing touch.
3. Heavy Metal Welding and Metal Fabrication Business Card
We produced this brushed, Stainless Steel card for Derrick of Ozarks Welding and Fabrication. Derrick's Metal Business Card is made up of multiple processes which help it to stand out, including the sleek brushed finish.
The perfect way to level up a standard Stainless Steel card is to give our brushed finish a try. This introduces an entirely new dimension of texture and depth to the cards. Next, Derrick utilized cutouts for the stripes in the American flag to further showcase special abilities available with metal cards.
2. WELD Done! Full Color Printed Metal Business Card
When you can't decide on one color, why not have them all with Full Color Printing? We love these rugged yet colorful black metal business cards for MK Mechanical Contractors!
Created with a fully custom shape, this unique design enhances the colorful border pattern representing the multicolored reflection and pattern of welding beads. Integrating elements of your work as a design element is one of the many ways we can create a truly one-of-a-kind card.
1. Bad to the Bone
This Matte Black Business Card created for Outlaw Mobile Welding certainly deserves a double take!
Not wanting to take away from their awesomely hardcore logo, we used our crisp silver laser etching to reveal the raw stainless steel underneath, highlighting and enhancing the details in the image. The addition of the orange spot color brings fire to the cards, and cleverly matches the orange of Outlaw welding generators.
---
Get Your Own Metal Fabrication / Welder Metal Business Cards
At My Metal Business Card we have helped metal fabrication and welding companies big and small across the country to get more clients, maintain a healthy pipeline of leads and word-of-mouth referrals with custom made-to-order metal business cards.
Check out our metal card deals for the easiest way to get your own metal business cards:
Stainless Steel Metal Cards Starter Pack – currently $199 (Save 38%)
Black Metal Executive Pack – Currently $399 (Save 30%)