Choosing The Best Business Card Design For You
Table of Contents:
Alas, the sad truth is that most paper business cards are typically instantly trashed after they're received…
Why Should You Get Metal Business Cards?
Simply, metal business cards ensure you make a great first impression, every time. When you hand out a metal business card, it creates an instant WOW effect, and make sure people won't forget meeting you. You start a conversation without saying a word.
Many folks see business cards as a commodity and think they can get great value by buying in bulk at the cheapest price and distributing their paper cards to the largest number of people possible and then wait for the phone to ring or the inbox to fill up. We don't think so.
When meeting new people, do you want to blend in… or do you want to make an instant impression that will be remembered for YEARS and get referred to your contacts' personal networks?
Do you want to stand out as a professional who's on top of their game and able to provide unique value far beyond the price of your services or products?
There should be no doubt that metal business cards will boost your business. That's why we've put together this ultimate buyer's guide to metal business cards to help you understand your design options and choose the right cards that work the best for you.
"Being in my industry for 20 years and 9 of those in upper management. i deal with a lot of venders day in and day out. I get tons of business cards day in and day out, and to be honest i just chuck them ( throw away). Then one day my [redacted] rep came in. I had not seen him in a while and so he went went to give me his business card and it was metal! anyway the conversation changed from routine to less stressful sales tactic, I didn't see him as trying to sell me. It put him on a whole different level in a second like that in my mind… Even if i didn't like him, i still would not throw that card away, you just don't, you are just accustom to keep something different and unique. I even went out of my way to show my colleagues."


– Steven W. (emphasis added)
5 Reasons Metal Business Cards Are Worth It
We strongly believe so, and thousands of customers agree (check out some reviews). Here are a few reasons why metal cards are worth the investment:
Metal Cards Are More Durable
Well, for one, they are durable and last much longer. A metal business card isn't going to get dog-eared in your wallet or get soggy in your coat pocket if you get caught in a rain shower.
In fact, they can withstand a lot of punishment that would frankly finish a paper business card.
⭐⭐⭐⭐⭐

"We work in construction and our cards used to get sweaty and fall apart, the metal cards are not affected by sweat. Builders and Architects are always impressed with our cards."

– Colter M.
⭐ ⭐ ⭐ ⭐ ⭐

"I found My Metal Business Card on Instagram. After buying paper business cards in the past and seeing them fall apart in my wallet I needed a "commercial grade" business card. Metal business cards are the answer. Not only will the cards stand out, but they will hold up over time."
The 'Wow' Factor
Then there's the 'wow' factor. Think about that person you will hand your metal business card to and imagine his or her desk drawer full of white paper business cards they have barely glanced at since they first grasped them out of expectant hands.
Now, here you are, with your sleek, cool and stylish metal business card.
The FEEL of the card is magical – when your new contact feels the touch and weight of metal, it'll certainly raise an eyebrow or two and your business will be etched on their minds for some time to come.
"I only wish I would have known about these ultra-cool cards years ago. Words don't even come close to expressing the 'WOW' factor they have and the repeat business I've been receiving because of them. Most people have never seen anything like them. The responses I receive from basically every customer whom I give one to is priceless. They are absolutely worth their weight in gold."

–Mike S. AK, United States


Metal cards elevate your professional image to a whole new level.
People associate things that are heavy with importance, value and significance–and that instills YOU as an effective and professional person in their mind.
⭐ ⭐ ⭐ ⭐ ⭐

"The WOW I get every time I hand one to a potential client is PRICELESS. They separate me in a saturated market."
"I have given my cards out to $123,975.00 of work. Each one of the contacts mentioned that the cards were very memorable. That I stood out, thats one strong reason I was awarded the projects…"
Longevity and Word of Mouth
The price of metal card per piece might be higher than bulk paper cards – however, most people find they get much more VALUE from metal cards. Let's look at three value-drivers:
1: People don't throw away metal business cards.
⭐ ⭐ ⭐ ⭐ ⭐

"They really do set yourself aside from anyone else handing out a paper card. My first order was better than I expected! Clients and Customers don't feel like they can throw this away, so they sit on their desks or in their homes, and give constant "organic" advertising to anyone who sees them! I love people's reactions to them, totally worth investing in!"
⭐ ⭐ ⭐ ⭐ ⭐

"The reaction I receive when I hand out my cards is always WOW. I want them to remember meeting me, and they do."
2: And they show the cards to their colleagues and friends.
"My metal business cards literally drew a crowd at Dunkin Donuts when I was showing a buddy"

– Brian T. McCann

⭐ ⭐ ⭐ ⭐ ⭐
"My metal business cards are simply amazing. You talk about creating a lasting impression. When you are in a large group of peers and everyone is talking about you…WIN!"
Design Flexibility
No, we're not talking about the kind of flexibility you get from bending your plastic credit card – and we're not talking pilates either. Although it won't bend, a metal business card is much more flexible than a paper business card because of the many different ways you can customize it.
There isn't much you can really do with a one-size-fits-all white paper business card, but at My Metal Business Card, you can really cut loose.
Different colors, cool etching, exquisite lettering, jaw-dropping images, you can even have different shapes cut into it. All this combines to provide an unforgettable calling card for you to distribute to would-be clients.
---
Business Card Myths
1. "Business Cards are an outdated source of networking." – In a hustle and bustle world where everyone is always on the move, what better way to set yourself aside from the rest than to hand out a one-of-a-kind metal business card. Not only will your first impression be second-to-none, your metal business card will help strike a conversation out of the ordinary "what do you do for work?" discussion.
2. "More isn't necessarily better." – Some tend to believe cramming as much information on a business card as possible is the best route.  Although it may seem that way, often times simplicity is best. Providing someone with the means to contact you is usually all you need; it also leaves more room for design on the card.
3. "It's alright if my business card has outdated information." – This can be viewed as an initial insight on how you do business or run your company.  If you present a future client with outdated information, it may appear that detail is not important to you, and you are willing to cut corners, which can possibly cost you a business connection.
4. "Business Cards are a waste of money." – Your business card expense should be included in your marketing expense. These are powerful marketing tools, not just a card with your number on it.  Producing a low quality business card may potentially lower your chances of clients actually keeping your card. Choose to invest in branding yourself with metal business cards because one new client can make it all worth it. Be proud of a product that represents you.
---
Choosing The Right Finish For Your Metal Business Cards
Metal cards don't have to look like plain stainless steel… There are plenty of finishes available to customize your cards even further to better match your brand and style.
All our metal cards are made from stainless steel, but finished differently through our sophisticated coating process.
Stainless Steel
Stainless steel cards capture a clean, modern feel in timeless style. These cards are our most popular for a reason – they're cost effective, attention getting, and do one job extremely well – they make you instantly standout and leave a memorable impression.
---
Black Metal
Our most sophisticated and luxurious metal business card type! Black Metal Business Cards are designed to impress with their matte black look and feel.
Black Metal cards can be made with a Matte Black finish or Textured finish. Or go for the unique Brushed Gunmetal finish!
---
White Metal
The newest finish to our line-up and arguably the most modern! These cards are clean and fresh.
White Metal Business Cards are sure to impress with their bright, smooth-white finish. Our screen-printed colors really pop on this card finish.
---
Brass Finish Metal Cards
Brass Finish Metal Business Cards look like they're made of shiny brass and that makes them grab major attention. You can choose Matte Finish, Brushed Brass Finish, Textured Brass Finish for a stylish, less reflective look.
---
Gold and Rose Gold Business Cards
Made from 304 stainless steel with a special coating to look like polished gold, these cards are perfect for fashion and trend-conscious innovators.
The cards are available with these finishes:
GOLD – metal cards with mirror- and gold-like shiny finish, highly reflective look
ROSE GOLD – metal cards with a light rose tint for an elegant, luxurious and attractive look
---
Copper Finish Metal Business Cards
Rustic meets modern with our Copper Finish Metal Business Cards. Hand your new clients metal cards that will impress and tell your brand story.
---
Carbon Fiber Business Cards
Aside from steel, we also produce carbon fiber business cards. Ultra-light weight but stronger than steel, Carbon Fiber is the new medium of choice for everything from race cars to commercial airplanes. Capture attention with one of the most recent and innovative mediums.
---
Buyer's Guide To Metal Cards
What You Should Know About The Production Lead Time & Shipping of Metal Business Cards
How Long Does It Take To Ship The Cards?
Our standard production time for metal business cards, metal invitations, bottle opener cards and metal tags takes two to three weeks (apart from Quick Metal Cards which can be shipped as fast as 24 hours):
Metal Business Cards, Metal Invitations, Bottle Opener Cards and Metal Tags: Roughly 3 weeks
Quick Metal Cards: 5 days (24h production available)
Our Personalized Gifts & Customized Promotional Products: 3-4 days
What's The Shipping Time?
Once your order has shipped, you can expect to receive your cards no later than five business days based on your geographical location from our office in Southern California. We also offer a range of expedited shipping options you can choose at checkout.
International shipping time depends greatly on the destination country. Please contact us for an estimate.
Why Metal Cards Take Longer To Manufacture
The production lead time for metal business cards is longer than paper cards as metal cards are inherently more complicated to manufacture than paper. Unlike paper business cards, metal cards simply can't be printed on a sheet of metal and then cut out.
See the section How to make metal business cards for details.
If you come across "cheap metal business cards," be aware that you might not receive the same quality processes that have made My Metal Business Card the world leader in metal card production. We are trusted by brands large and small because of our refined manufacturing processes. Read more below and this buyer's guide's section cheap metal cards on why you should balance the quality and cost carefully when buying metal business cards.
---
Worth The Weight: The Best Thickness And Weight For Metal Cards
Although it can seem increasingly difficult these days, seeking substance in business, and indeed all walks of life, is a rewarding pursuit. Substance, however, is hard to quantify and, in many ways, is more of feeling than a measure.
When we think of a person as having substance, we tend to think about their professionalism and how worthwhile what they do or say is.
At My Metal Business Card, we also think about substance when it comes to the design and production of our metal business cards. Our cards are designed to be slim and easily stored, but that doesn't mean we skimp on quality, thickness or weight.
Think of slim metal and you'll perhaps imagine the aluminum that is used to make soda cans.
At My Metal Business Card, we want to give you something weightier than that, something more valuable – something with substance.
Whether we realize it or not, we often associate weight with quality and value.
That's why when it comes to metal business cards, weight is not only important – it makes all the difference. In fact, this is the main reason all of our cards are made from stainless steel and not aluminum. Aluminum just doesn't feel valuable.
That's why all our metal business cards are made with 304 stainless steel. It carries weight, in the literal and figurative sense. A top-quality product speaks volumes about your professionalism when you present it to a client.
You'll want your cards to feel and look like they have substance. Only high-quality materials make your cards durable and long-lasting, much like the impression you will make to the person you are handing it to.
Next, let's talk about the card thickness.
---
In short: Thicker cards simply feel better.
Very few companies make metal business cards, and everyone has their own standard thickness.
Our minimum card thickness is .5mm (or .019″ inch, or 500 microns). This is slim enough to slide into a wallet, pocket or purse, but weighty and substantial enough so that someone knows they are holding a piece of quality metal.
.5mm metal cards are sturdy, solid, and the weight is just right. Not too heavy. Not too light.

Simply put:
When you hand out your Metal Business Card, you want it to feel like METAL.
It should feel thick and durable.
It should give the impression of luxury and professionalism.
And our cards do just that. They give the immediate impression of value and confidence.
Don't take our word for it, here's a note we received from our valued and well-spoken client, Matthew Reynaud…
Question:

What was the single biggest reason that convinced you to place your order with My Metal Business Card?

Answer:

Weight a minute… Have you ever held an object in your hand and It seemed to be abnormally light? Say a cell phone or a watch for example. It is not uncommon to relate that object with being "cheap" if it perceived as being "too light"

The opposite of course is when you pick up a cell phone or a watch and it is surprisingly heavy it makes you take a second and say to yourself "oh hey this thing is serious!" That is because of a subconscious psychological effect that we have built in.

We associate things that are heavy with importance, value or significance. Please see link below for further reading on that subject. https://www.psychologicalscience.org/news/releases/the-link-between-weight-and-importance.html

The other is a matter of positioning. Business cards are the equivalent of junk mail. Most go completely unnoticed no matter how fancy your artwork, simply because of information overload. However, if you can pass someone something that they are not expecting say a live hamster you have a far better chance of getting their attention.

So those two things taken into account a metal business card makes perfect sense and they are much more manageable to hand out than hamsters. Hope that helps add some value to you and your organization.

Best regards,
Matthew Reynaud
We know that seeing is believing, which is why we offer free generic samples to our clients.
Let us send you a Metal Business Card sample so you can HOLD ONE in physical form – you'll see the weight is just right and the quality speaks for itself!
With marketing and advertising styles constantly evolving, the card thickness you need you need is directly correlated with what purpose your cards will have. Functionality can be key. Here are some contrasting points about the various card thicknesses we offer:
.3mm – Our lightest offering. Perfect for those looking to have highly intricate etching or cutout areas. (at My Metal Business Card, there is no extra cost for .3mm; just let us know you want this thickness when placing an order.)
.5mm – Our standard .5mm thickness is the most popular among our family of clients. One card with this thickness weighs approximately 0.6 oz.
.8mm – Often preferred by clients looking for a heavier card. .8mm is closest to credit card thickness (0.76 of a millimeter or 760 micron thick)-perfect for cards with magnetic stripes that will be swiped often.
1mm – Typically too thick for metal business cards but great for being used as a magnet, for example.
1.5mm – The standard thickness we offer for bottle openers. This thickness allows for bottle opener functionality and durability.
2mm – The thickest size we offer!
Artwork: The Best Business Card Design For You
You may be convinced of the merits of metal business cards but feel you lack the creative know-how to come up with a cool and eye-catching design for your company's card.
Don't worry, you're in safe and extremely capable hands with My Metal Business Card.
Our professional graphic designers will help you bring your vision to life. And if you are lacking in a clear vision, they'll help you with that too.
From the initial consultation, to the final proof, you will have the helping hand of our designers guiding you every step of the way. We know how to make you look awesome.
You may have an existing image you want rendered onto a card or choose from the many of options we have on offer. Whether it is specific lettering, a certain design or color, our graphic designers will work with you to produce the metal business card that best reflects your brand's image.
We offer two options:
Artwork Option 1. Choose our Artwork Service add-on when adding a product to cart, or choose a package with Artwork Service included (see Special Offers).
Going this route, you can upload your logo or any other files (i.e. drawings, logos, photo of your existing business card etc.) that you want included in the design of your custom metal cards or to serve as inspiration. You can also add any ideas and requirements as written notes for our designers.
Within 24 hours and often faster (during business hours), we'll email a digital proof made by one of our professional designers.
If you wish to change anything in your design proof, you can simply add notes and click a button to send it back to our designers.
Only after you are completely satisfied and thrilled with your design, and confirm the artwork, is the order sent to production in our state-of-the-art facility.
---
Business Card Design Case Study
For unique insight and plenty of examples, read how we created business card designs for 4 of our clients: Business Card Design Case Study.
---
Artwork Option 2: Provide your own vector artwork with all fonts outlined.
The complete artwork layout must be provided in a vector format, and the file types accepted are .ai, .eps, .cdr, .pdf, .dxf, and .dwg. If you have your own designer, you can find the metal business card templates for your designer on our Artwork Guidelines page.
Our metal cards are available in the standard rectangular business card shape, but can also be customized into a shape of your choosing.
Why not order a business card in a shape which reflects your brand or company's area of expertise – a wheel shape for a tire repair shop, a house shape for reality business or neat camera cutout for a photography studio.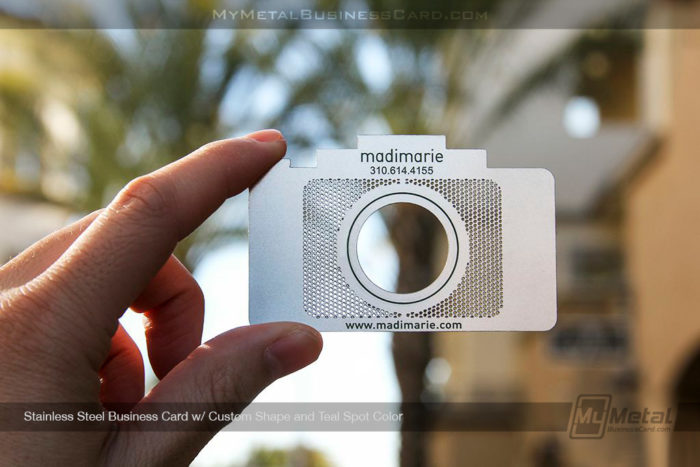 You can further customize your cards with features such as:
Custom Cut-Through Areas
Etched Background Patterns
Full Color Printed Images
Also, there are a few optional advanced features available:
Magnetic Stripes
You can make metal gift cards by having us add a magnetic stripe.
Magnetic & Adhesive Backing
You can stick your card on any flat surface by adding our durable adhesive backing.
Or add a magnet to the back of your cards to place on a metal surface like a refrigerator or filing cabinet.
Or drums, for example…
Variable Data
You can personalize each card with a unique name, number, or both with our Variable Data add-on. Simply provide the variable information in an Excel file with your order. We also offer other variable add-ons including barcodes and QR codes.
This also allows you to take advantage of a pro-tip…
Pro Tip: Splitting An Order Between Multiple People (For A Quantity Discount)
Using the Variable Data feature add-on, you can take advantage of quantity discounts by ordering cards for multiple people in your company in the same order!
Enter each person's information to the same order as Variable Data, and you'll get a cheaper price per card for the higher total order quantity. Our minimum order quantity is 50, meaning you could place an order for 200 cards, split between four different persons!
Beware Dirt Cheap Metal Business Cards – Hidden Fees And The True Cost Of Poor Material & Unprofessional Design
Do cheap metal business cards even exist?
Probably, but beware! Let us explain…
When you decide to invest in metal cards, make sure you go all the way and choose carefully whom you trust your business with.
Let's not forget the main purpose – your metal business cards will represent you and your brand, and their job is to impress, so that you can build better relationships.
It may be tempting to look for the cheapest metal business cards you can find – but those often leave you short of your desired goals.
If you don't cut corners in your customer relationships, don't do it with your cards either.
Some of the things to look out for include:
Low base price, but quickly adding nickel-and-dime costs for custom shapes, card thicknesses above the extra-thin .3mm, 2-side etching etc.
The use of cheaper metals which are less durable and can bend out of shape.
Stamping instead of etching which can warp the card.
Stickers used to apply artwork which will peel off over time.
Cards that scratch in your pocket and attract messy finger prints if they're not individually wrapped.
Lack of durability and a shoddy product which makes you look unprofessional.
Beware: several companies claim to sell cheap, high-quality metal cards, but customers find out later the cards are not metal; instead, they have a metal-like varnish.
Other websites offer metal business cards, but their standard thickness is much thinner than we have at My Metal Business Card. We encourage you to research your metal business card options because card thickness and the quality and feel of your cards are important.
Also make sure your metal card manufacturer uses professional graphic designers to make sure you get the metal business card you deserve. Although our expert etchers and printers can cut all manner of shapes into your metal business cards, one thing they don't do is cut corners.
Unfortunately, though, that isn't the case with all metal card companies, so it's worth being aware of what you get for you money.
If you choose to get metal business cards 'on the cheap', you will end up paying the price further down the line.
Often, though, rock-bottom prices mean corners have been cut elsewhere and we have come across cheaper versions of metal business cards which simply don't cut the mustard.
For a start, the cheaper metal used is much lower quality, which means it's less durable and also lends itself to less customization.
You may also find with some cheaper metal business cards that the lettering and artwork is actually on a sticker which is then fitted to the metal. This will, of course, peel off over time, leaving you with a shoddy product.
Four negative points about cheap metal business cards:
They're stamped vs. chemically etched
Stamped cards are often slightly warped due to the pressure and heat generated when stamping steel or aluminum. All of our cards are etched from sheets of metal. Chemically etching cards allows for custom cut-out areas and custom shapes.

They use a low-grade metal
Often, cheap metal business cards are made from a more porous metal that is lighter in weight and less durable. All of our cards are etched from 304 stainless steel because this material is durable and feels great in your hand – it's cold and hard as a metal card should be.

Their printing is actually a sticker!
We've come across competitors who will print your artwork onto a clear film, then adhere that film to the card surface. The result, a printed surface that will peel-up over time. And, this doesn't allow for any relief (depth) with the printing. Our cards are screen-printed, individually and by hand, for maximum quality.

Missing the important 'wow' factor
Due to the lighter weight, stamped material and the peel-and-stick printing, cheap metal business card knock-offs don't offer the same feeling you get when someone hands you a custom-etched, heavy metal business card. There is an emotional connection to our cards because their weight and cold-to-the-touch feel. Read more: Weight a Minute! Why Metal Business Card Weight is important.
We guarantee that cards from My Metal Business Card leave a lasting impression, not just on the metal itself, but on the person who receives your metal business card.
---
How Are Metal Cards Made?
The manufacturing process for Metal Business Cards is complex and intricate. It's a process we have worked hard to master over the last decade.
Making Metal Business Cards is a very different process than that of paper, plastic or wood business cards.
The manufacturing process includes (but is not limited to):
Cutting sheets of 304 stainless steel
Cleaning sheets of 304 stainless steel
Printing top and bottom film-tools for chemical etching
Exposing the films to treated sheets of metal
Chemically etching sheets of steel to produce the metal cards
Cleaning and inspecting each metal card
Producing unique screens for the screen printing of each color
Screen print each color, by hand, for each side of the card
Additional processes including laser etching and additional surface finishes
And this is just a small taste of the steps required in our production standards…
Let's take an in depth tour of How Metal Business Cards are made!
Chemical Etching vs. Laser Etching
In production phase, there are two different processes we use to etch into the metal: Chemical Etching and Laser Etching. Both are available for Stainless Steel, Black Metal, Brass Finish and Copper Finish materials.
The main difference between the two is Chemical Etching creates depth, while Laser Etching lightly etches the surface of the card.
So how can you tell the difference? Simply run your finger gently across the surface of the card. If you feel a slight indentation, then it's chemically etched. If the surface feels smooth, then its laser etched.
Chemical Etching
After your artwork is transferred to custom film tools, the metal sheets are prepared and placed on an etcher where a series of chemicals and acids hit the top and the bottom of the metal sheets.
When etched 50% from both sides, the card shape and any other cutout areas are completely cut through the metal. Chemical etching is a fast, precise and efficient method for cutting and etching metal.
Check out a more in depth video here:
It's important to note that Chemical Etching is one of the initial processes done before coating the cards black, brass or copper.
Here are a few images showing cards created with Chemical Etching: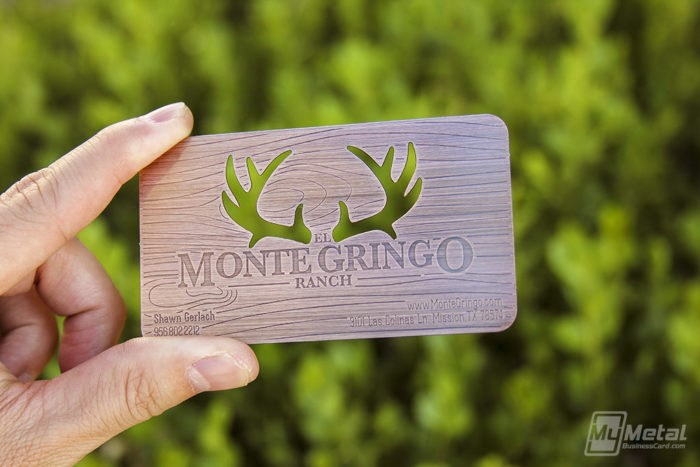 Laser Etching
Laser is another method we use for cutting Metal Business Cards. After your artwork is transferred to custom film tools, the metal sheets are prepared and placed under our high-powered Fiber Lasers.
The lasers are directed at the areas of the metal to be cut through. The lasers then burn through the metal surface creating a very precise, 90 degree clean cut.
Laser cutting is utilized for any product 1mm or thicker.
Any Metal Business Cards that are thicker than .8mm are laser cut, including our Metal bottle opener cards, which are 1.5mm thick.
During this process, a lower wattage laser nearly grazes the surface of the metal which etches in light silver but does not create depth.
The following cards are some of the cards done with laser etching:
We also use lasers for etching variable data. For example: each card has a different name, number, member since date, etc. Our lasers read the variable data from an Excel sheet which is quick, efficient and requires minimal set up.
When it comes down to the final product, we make sure the right processes are used to give you the best looking Metal Business Cards around!
Regardless of which way your cards are cut, we stand by our quality with satisfaction guaranteed.
Free Business Card Templates
We have multiple different business card templates and resources to help you:
First of all – while not "templates" per se – we have a HUGE portfolio of different finished cards on display. You can simply place an order and refer a card you really liked so that our designers can take that as inspiration for your own card design. Check out our porfolio, or any of our product pages for more images.
2 – Our Quick Metal Cards With Pre-Cut Business Card Templates
Our Quick Metal Cards feature various pre-cut template shapes that you can choose from. Our designers can then help you design the graphics to be laser-etched onto the cards. (Quick Metal Cards can shipped as soon as in 24 hours!)
3 – Pre-Made Customizable Logos For Business Cards
Also, if you don't have a logo and need one quickly, you can ask our designers to re-purpose and customize any of our pre-designed tumbler logos with your information:
4 – Vector Image Template Files
If you have been working with a professional designer already, you can send him/her our metal business card template files to design your card in a format that we can use in production, allowing you to bypass our artwork service.
Have Our Professional Team Create The Business Card Design Of Your Dreams (Even If You Have No Ideas Of Your Own)
You can now also have our professional designer team create a unique metal business card design for you: order our custom business card design service, and you'll receive a digital proof the next business day!
---
Simply, we are the world leaders in metal business cards. We have in-house professional designers ready to take good care of you. Lots of customers appreciate that you are always welcome to call us – and when you do, we answer the phone! Not in some offshore call center, but right here at our LA office.
If you are in the area, we welcome walk-ins, too!
When you buy a metal business card from My Metal Business Card, you are also supporting a small and growing business located in California. We have a hard-working and dedicated team, who enjoy many employee benefits and are committed to producing a bespoke and high-quality product for you.
We provide one-to-one consultation at every step of the process, so you will be kept up-to-date with how your metal business card is coming along.
➡ The Best Way To Get Started With Metal Business Cards
It's true the metal business cards cost more than paper ones simply because the production process of how metal business cards are made is very much different to that of paper printing – but let's go back to that idea of value.
When you consider the cost vs. value you receive, metal cards are actually cheaper than paper cards.
All our pricing is up front and honest, so you'll get no nasty surprise when the bill comes. In fact, you'll find that our rates are highly competitive and, considering the high quality of product you will receive, the value of a card from My Metal Business Card holds up well over time.
So why wait?
You can have an initial proof of your own, custom-designed metal business card in a matter of hours with our Stainless Steel Cards Starter Pack or the Black Metal Executive Pack.
Both packages include free professional card design by our in-house team and free US shipping for a single, low packaged price you won't find elsewhere. Choose your option below.
Classic Stainless Steel or Luxurious Black Metal?
Stainless Steel Starter Pack – Currently just $199.50 (Save 38%)
Luxurious Black Metal Executive Pack – Currently just $399 (Save $176)
If you want to find out more about metal business cards and ask a few questions, give our friendly team in Los Angeles, California a call now at 714.213.8155, or use the chat widget on this site.
---
Have Our Professional Team Create The Business Card Design Of Your Dreams (Even If You Have No Ideas Of Your Own)
You can now also have our professional designer team create a unique metal business card design for you: order our custom business card design service, and you'll receive a digital proof the next business day!