Let's look into business card design trends in 2022 that will set the tone for 2023! Our team has worked with many inspiring businesses in 2022 to create unique business cards that stand out and instantly start a conversation.
Below you can find design inspiration for different industries – for more card design examples, click the link at the end of each section!
---
Fitness Business Cards
1. Stoked for Steel
Wanting people to be totally stoked about your fitness program? Get the normies excited with a set of rad Stainless Steel Metal Business Cards!
It's very clear that Stoked Athletics is ready to get their client's excited about fitness, and what better way than with a custom metal VIP card? Going for a unique angle, these cards are turned on their side for a fresh vertical layout. A popular and effective combination, our natural stainless steel and black spot color create a card that is impressive and convincing. Custom cut through areas hugs the edges of the card for a truly bitchin' effect that will blow the socks off any recipient.
Don't buy into a set of bogus paper cards – Go metal and make some gnarly sales!
2. A Black Belt In Business
When you're a true martial arts master, you need a tough set of cards that are nothing to mess with! With our mission at hand, we were ready to design these cutting edge Black Metal Cards for Lou Casamassa's Red Dragon Karate.
An ever-popular choice, our matte black metal finish perfectly tows the line of tough, sleek, and professional. Leaving spot color by the wayside, these cards were created using only various etching techniques for an impressive display of texture. Using chemical etching at different exposure rates we cut a custom chain link design into the cards at different depths to create both cut through and surface etched variances. Using our silver laser etching we removed the top layer of finish to reveal the raw stainless steel underneath to expose their beautifully intricate logo.
The cool tones and structured cutouts in this card truly put the art in martial arts!
3. Get CUT, With Custom Cutouts
Steve Olson owner of Archetype Strength gym's mission is to provide a high quality and badass gym to train at, and commissioned us to design cards to match! Our Stainless Steel cards deliver that hard hitting, industrial feel, ideal to represent pumping iron.
A neon green spot color bounces off the finish and gives an edge to key elements of the card. We cut through a custom shattered triangle pattern to complement the triangle in the logo and add a sturdy design element.
We are ready to sign up and break a sweat with cards as hardcore as these!
4. Total Knock Out
For Larry Jones of Bare Knuckle Fighting the rugged nature of the sport required a custom Square metal business card worthy of standing up to its name. Our popular Black Metal finish is the perfect canvas for those looking to deliver a message both tough and professional.
Although slightly smaller in size, the uniquely square shape of these cards sets them apart from a typical rectangle and earns them a double take. Reminiscent of the fighting ring, a custom chain link fence cutout pattern is used for detailing across the top of the card. Keeping it bold yet striking, a stark white spot color is used for the content, creating the most contrast for an achromatic look.
Typical paper business cards don't stand a fighting chance against this knockout design!
5. Gripping Design
With detailed cut through areas we can achieve with our custom cards, we are crushing the metal business card game! We want you to WOW your clients with a hard-hitting first impression, which is exactly why Crunch Fitness teamed up with us.
Our natural Stainless Steel finish paired with the custom design chain link cutout pattern, work together to create an immersive experience. Paired with vibrant red-orange spot colors, this card truly GRABS your attention! With the logo large and in charge on one side, that leaves plenty of room on the back for all the important contact information.
See all Top Fitness Business Cards
---
Business Cards with QR Codes
1. Construct Conversation
For the Mullis Construction Group cards they decided a White Metal Business Card enhanced with a QR code would be the ideal jumping off point for a card that covers all of the bases.
Maximizing functionality, we used a black spot color to apply the traditional business information, the QR code, AND a ruler to the cards! The addition of an extra spot color in their signature yellow unifies their branding. We created a custom chain link fence cutout pattern with rounded corners to border the card and match the construction elements of their business.
From minimalist to maximalist a QR code serves every style!
2. Cutting Edge
J.C. Platt Builders wanted a sleek, custom card with extra accessibility!
Our Gunmetal Business Cards have the perfect professional yet cutting edge look, merging the corporate and rugged elements of a construction business. Using a surface etching technique to apply the imagery and logos provides a monochromatic feel and allows for extra detail without distraction. Using a silver laser etching technique to apply the QR code lets the raw stainless steel show through, creating an almost highlight effect. The contrast allows the code to be scanned easier, while also drawing attention.
An understated color palette with contrasting POP will keep focus right where you need it!
3. Pointing to Success
As one of our best sellers, our Stainless Steel Business Cards are the perfect way to show off the truly unique look and feel of a metal card. The raw Stainless Steel brings forth the unique quality of holding a metal card in your hands.
With chemical etching, we applied a custom shape mesh pattern to contour the bold arrow shaped logo. The large logo and black screen printed QR codes balance out the card and make a statement. With no other readable information on this side of the card, the recipient can scan the QR code to be taken directly to the company website.
4. Triangulate Success
Opting for our sought-after Black Metal Cards, Unique McKinney was looking to impress their clients with cards both intriguing and modern. Seeking to draw an audience and create interest in the city of McKinney, TX, a QR code is the perfect portal of information. Created to link directly to their website, the QR code allows all the information to be accessible by a quick scan, and leaves room on the card for a cleaner and more aesthetic design.
To create a unique black on black background pattern, we combined our matte black cards with a black semi-gloss spot color for contrasting finishes that reveal in different lighting. Our silver laser etching creates a crisp QR code and URL for high legibility, with an accent of spot color to match their signature Unique blue.
Open doorways to success with your own QR code!
5. A Rose Coded Card
Being acquainted with the latest trends in design and technology places you in the forefront of competition. NARA-YA wanted to create a card innovative in both technology and style!
Trendy and fashion-forward, our Rose Gold Metal Business Cards are a sure fire way to make an impression with their unique hue. Paired with a bold, black, stylized QR code, these cards are ready to turn heads. Although there are less production processes involved with their design, these cards are anything but simple.
Speak volumes with hardly any words at all with your own custom metal business cards, and QR codes!
See all Top Business Cards with QR Codes
---
Luxury Real Estate Business Cards
1. Tippin' The Scales
Clean and fresh, our White Metal Business Cards offer the perfect canvas for TIPPINSLUXE REALTY to show off their style.
The blue and gold spot colors truly pop against the bright, smooth-white finish, showing off the TIPPINSLUXE signature colors. Intricate details like the blue detailing in the middle of the custom cut through bar showcase a dedication to quality and precision.
We know that luxury clients have an eye for detail, which is why each of our cards is carefully handcrafted and designed to match your perfect aesthetic.
2. Command Attention
A great way to add interest to a card without the use of multiple colors is through texture. Wanting to stick to a sleek and more neutral color palette, Comandini Real Estate Advisory chose our popular Matte Black Metal Business Cards with various etching options.
Using our surface etching technique, we etched a custom Comandini logo pattern into the background of the card prior to coating it in our Black Finish. This creates a slight debossed effect adding a textural experience and slight visual interest without skewing the focal point of the logo. We also used our silver laser etching to reveal the raw Stainless Steel underneath, and to apply the decorative border and company information.
3. The Right ONE
Opting for our popular Stainless Steel Business Cards, Mike Vaupel of Realty ONE Group chose to showcase the natural finish of a true metal card. Although our various finishes are impressive, a pure Stainless Steel helps to highlight the special quality of holding a metal card in your hands.
Custom cut through areas are a huge design advantage to metal cards, and add an impressive flair to any piece. Using our chemical etching process, we cut through a sweeping mesh pattern along with custom cutouts inside the logo. A traditional black spot color was used for the contact information, and a gold spot color for the logo to draw attention!
4. A Doorway To Opportunity with NFC Metal Business Cards for Real Estate
Being in touch with the latest tech trends is key when implementing new marketing strategies. Lindsay Vogt wanted to maximize her networking potential by combining the best of both physical and digital media worlds with a Metal NFC Business Card!
With our NFC technology, we can encode the chips with any URL of your choice, which can then be scanned to any smartphone it is tapped to. Instant spread of information! Using a black NFC sticker we seamlessly blended the chip into the design motif of the Matte Black Metal Business Card. Matching white spot color elements help to create an elegant and cohesive look. A small splash of metallic gold spot color is the cherry on top of this card for a touch of flair.
With so many options, we are here to help you communicate successfully through all avenues of design, and mediums.
5. They ROSE Above The Competition
Integrating bold and feminine, Prodigy Realty opted for a Rose Gold finish for their cards, perfectly complimenting their signature phoenix logo. Growing in popularity our Rose Gold Metal Business Cards are a unique and trendy option for those looking to stand out.
Not to take away from the stunning tones of the Rose Gold finish, we focused on using surface etching for the intricate detailed pattern, and phoenix striking logo. A neutral black spot color is used to bring attention to the company title, keeping the design balanced. For an extra special touch, we used a custom mesh cut through pattern towards the edge of the card.
With our constantly expanding selection of finishes, we want to make sure you have ALL of the options at your disposal to create a card that is perfect for your branding, and on the cusp of the latest trends.
See all Luxury Real Estate Business Cards
---
Metal Fabrication and Welding Business Cards
1. Putting in WORK – JP's Metal Works Business Card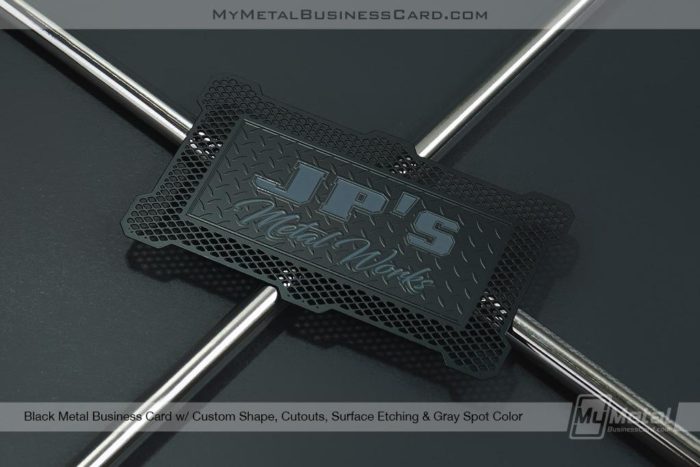 Working in an industrial field, JP's Metal Works commissioned us to design a card to embody the elements of everyday metalworking. Using multiple custom textures, our design team truly exceeded expectations!
Drawing inspiration straight from metal fabrication materials, we used different variations of chemical etching to create the custom shape, mesh border design, and diamond treat texture. Keeping with a cool, modern look, we used gray spot color to add a slight contrast to the card without creating distraction. The unified theme in the cutout and etched patterns are combined to create a Metal Business Card that solidifies the overall theme.
3. No Flux Given – Copper Finish Business Card for Welder
AMA Welding Solutions has a complex logo in need of a strong base to bounce off of. Our rustic yet modern Copper Finish adds the perfect edge to any of our cards, elevating its sense of style without compromising the overall design.
Using custom cutouts for the logo and name as the main focus of the cards, the contact information was then applied with a classic black spot color for a classic finishing touch.
3. Heavy Metal Welding and Metal Fabrication Business Card
We produced this brushed, Stainless Steel card for Derrick of Ozarks Welding and Fabrication. Derrick's Metal Business Card is made up of multiple processes which help it to stand out, including the sleek brushed finish.
The perfect way to level up a standard Stainless Steel card is to give our brushed finish a try. This introduces an entirely new dimension of texture and depth to the cards. Next, Derrick utilized cutouts for the stripes in the American flag to further showcase special abilities available with metal cards.
4. WELD Done! Full Color Printed Metal Business Card
When you can't decide on one color, why not have them all with Full Color Printing? We love these rugged yet colorful black metal business cards for MK Mechanical Contractors!
Created with a fully custom shape, this unique design enhances the colorful border pattern representing the multicolored reflection and pattern of welding beads. Integrating elements of your work as a design element is one of the many ways we can create a truly one-of-a-kind card.
5. Bad to the Bone
This Matte Black Business Card created for Outlaw Mobile Welding certainly deserves a double take!
Not wanting to take away from their awesomely hardcore logo, we used our crisp silver laser etching to reveal the raw stainless steel underneath, highlighting and enhancing the details in the image. The addition of the orange spot color brings fire to the cards, and cleverly matches the orange of Outlaw welding generators.
See all Welding Business Cards
---
Metal Business Cards for Breweries and Distilleries
1. Budweiser
When Budweiser was searching for the BEST Metal Business Cards for Breweries in the industry, they came to My Metal Business Card.
We designed these custom-shaped Stainless Steel Cards with the company's famous red and white logo featured on the front. With one side accentuating their logo, the back of the cards featured our client's contact information, which was chemically etched and filled with screen printed color.
2. Heineken
Here we have a Black Metal VIP Card we produced for Heineken. The design has custom cutouts around the red star with all other content etched and filled with green and white spot color.
Matte black is a popular choice for Metal Membership Cards for Breweries because of its sleek & executive look and feel. By adding variable data to an order, we can personalize each card with a name or number or both, if needed. Simply supply an excel sheet with the data, and we'll take care of the rest!
3. Kraken Rum
We produced this beautiful Black Metal Membership Card for Kraken Rum. As you can see it matches the Kraken Rum brand perfectly.
The fine details were chemically etched prior to coating the card in matte black. This process yields a unique debossed look that draws the eye in. The rest of the content was laser etched in silver.
4. Rock & Brews
We produced this custom Black Metal Bottle Opener for the famous Rock & Brews Family Restaurant. Rock & Brews is a local restaurant that serves craft beer and fresh comfort food, founded by Gene Simmons, Paul Stanley, Dell Furano, Dave Furano, and Michael Zislis.
These Black Metal Bottle Openers had the Rock & Brews logo as well as each personalized name and title laser etched in silver. For a slick, usable keepsake, we recommend our customized Bottle Opener Cards for Breweries!
5. Copper Barrel Distillery
This Copper Finish Business Card was created for Copper Barrel, a distillery in North Carolina. The custom barrel shape is a popular request among our brewery and distillery clients. Custom shapes are included in our pricing!
The company's name 'Copper Barrel' is cut through the card while the rest of the content was chemically etched down creating a slight depth into the card's surface.
See all Brewery & Distillery Business Cards
---
READY TO ORDER METAL CARDS FOR YOUR BUSINESS?
Order custom metal business cards for your business and experience the difference!
Nothing beats the impression that these cards get. It's always a conversation starter. Will be a customer forever!

– Valerie F., Florida
We are the world leader in Metal Business Cards because of our service, price, speed and 100% satisfaction guarantee:
Our metal business cards will make you stand out, or you get your money back.
Our expert team is ready to help design outstanding cards to match your brand – your cards will not go to production until you love your design!
To place an order or if you have any questions, contact us at 714.213.8155 or email sales@mymetalbusinesscard.com.
We look forward to hearing from you!